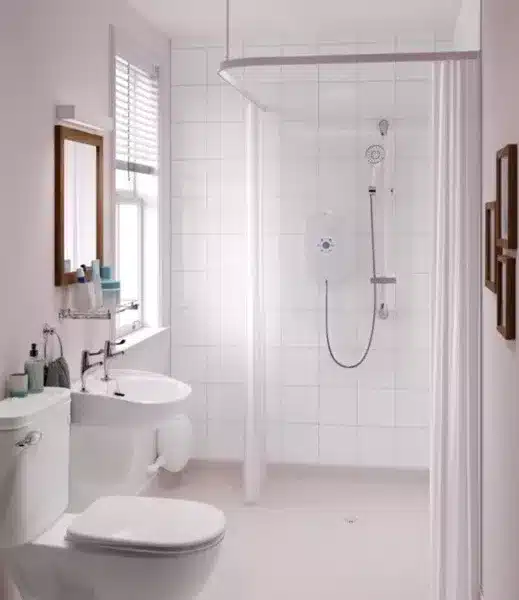 Walk-in Shower Size
What Is A Good Sized Walk-In Shower?
Converting an old bathtub to a walk-in shower is high on many homeowner's wish list. A walk-in shower creates more space by removing a bathtub and also gives the bathroom a clean-lined look. A conversion of this regard can suit your active lifestyle, regardless of whether you want a quick shower or a long soak.
Before we get into the article, be sure to contact Agecare Bathrooms for enquiries about walk-in showers for the elderly and disabled, as well as many other services. We are a family run company with more than 30 years combined experience within the bathroom industry. Our fully qualified plumbers, electricians and joiners provide a top quality service with beautiful styles and designs.
What Benefits Does a Walk-In Shower Have?
Before we get into the perfect scalings for a walk-in shower, we want to run you through the advantages and uses for them. Doing so, you can get an understanding of why certain sizes are used, depending on the user's personal preferences and needs.
Unlike generic stalls, walk-in showers don't require a door or a curtain to stop water from spraying out. Doing so, this creates a more spacious and open look. Prefab units also have shallow curbs to stop excess water from running onto the bathroom floor. Custom walk-in showers are designed with no curbs, just a slightly sloped floor – which encourages greater accessibility, a huge benefit for  those with joint injuries or mobility issues.
Can I Choose A Size For My Walk-In Shower?
While the size of your walk-in shower will be determined by the amount of the bathroom's available floor space, homeowners have lots of decorative leeway in custom design. You can:
Select the color and type of tile for the floor and walls.
Opt to install glass panels or even glass blocks on one or more sides.
Select the shape. Geometrics, such as squares, rectangles, and hexagonal lines, are popular, but you can opt for virtually any wall shape—even a curved wall—if you have adequate floor space. Standard building code recommends a minimum of 30 inches of walking space between bathroom fixtures, so leave adequate room to walk between the new shower and the vanity or commode.
Create a shower that meets the Americans with Disabilities Act (ADA) recommendations to accommodate a person with mobility issues. In addition, check with your local building authority to see if any supplementary codes apply. The ADA suggests a minimum size of 36 inches by 36 inches for a walk-in shower, which features a bench attached to one wall for sitting. Even if you eschew the bench, 36 inches by 36 inches is a good minimum size for ease of showering. If the shower will accommodate a roll-in shower chair, the ADA recommends a minimum size of 30 inches by 60 inches to permit easy in-and-out access.
Generally speaking, you'll be able to dictate the cosmetics of your walk-in shower, as well as the shape. The size will most certainly be dictated by the size of your bathroom. 
Contact us to find out more about our walk in showers for the elderly and disabled.