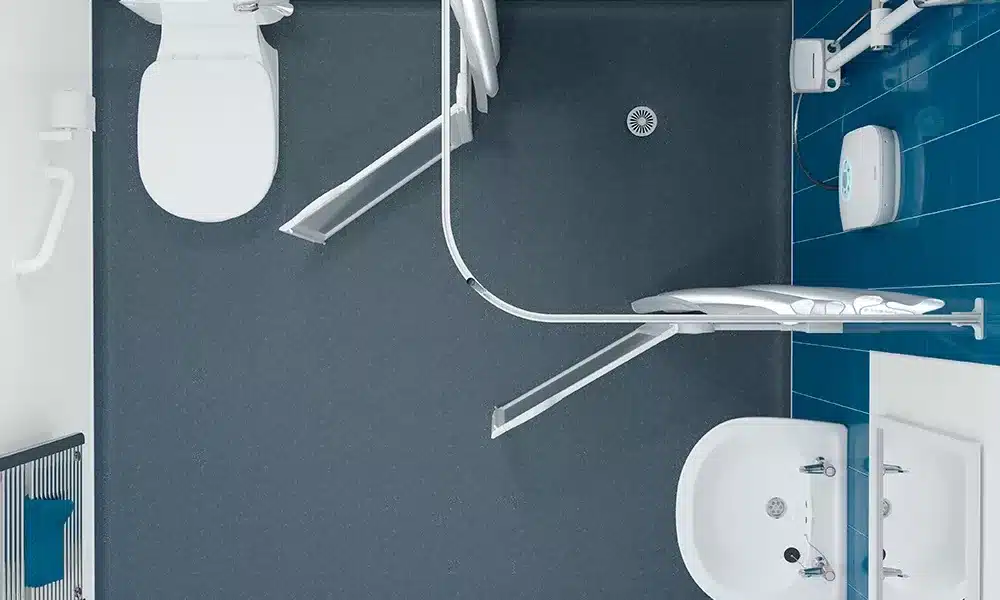 What Are Level Access Showers and How Do They Work?
A level-entry shower is a perfect solution for individuals who use wheelchairs or have limited mobility. It features a seamless design without any steps or lips, allowing for unobstructed access to the shower, making it particularly suitable for the disabled and elderly. 
Additionally, a chair, whether it be foldable or fixed, can be added to enhance comfort and accessibility. 
The walls and floor of the shower are waterproof, making cleaning and maintenance hassle-free. 
We understand the importance of safety and accessibility in level access showers, which is why our designs are tailored to your specific disability requirements. If wheelchair access and safety features are needed, they are incorporated into the design. 
Our installations are carried out with meticulous attention to detail to ensure that your unique mobility needs are taken into consideration.
How do level access showers work?
A level access shower, also referred to as a walk-in shower or a curbless shower, is specifically designed to offer easy and unrestricted entry to the shower area, particularly for individuals facing mobility challenges like wheelchair users or the elderly.
Here's how a typical level access shower operates:
Barrier-free entry 
The shower is designed without any steps or lips at the entrance, enabling seamless access without the need to navigate a high threshold, which can be difficult for those with limited mobility.
Sloped floor 
The shower floor is gently sloped towards a drain, ensuring effective water drainage. The subtle slope provides a safe and comfortable surface for users to stand or sit while showering.
Waterproofing 
The walls and floor of the shower are constructed using waterproof materials to prevent water from seeping into surrounding areas and causing damage. This makes the shower easy to clean and maintain.
Optional seating 
Some level access showers may also feature built-in or removable seating options, such as fold-down shower seats or shower benches, for added comfort and accessibility for users who require seating while showering.
In summary, a level access shower is designed to deliver a safe, accessible, and convenient showering experience for individuals with mobility challenges, empowering them to shower independently and with ease.
How much do level access showers cost?
As level access showers are designed with mobility-friendliness in mind, they may be slightly more expensive compared to standard walk-in showers, as there may be fewer options available in the market. 
However, the overall cost of your level access shower will depend on factors such as the size of the shower, the design preferences, and any additional shower accessories you wish to install.
We take the time to understand your needs and budget, and then present you with options that precisely meet your requirements within your desired price range. 
Every bathroom and its requirements are unique, and with a vast array of products, suppliers, and styles available, our clients have found value in our efforts to do the research and present them with tailored solutions, saving them time and effort.
Contact us today
If daily showering poses challenges for you, a level access shower could be the solution you need. Contact us at Age Care Bathrooms now at 0800 808 5897 for a complimentary, no-obligation quote and consultation. 
We will be happy to discuss your requirements and provide tailored recommendations to meet your needs. 
Don't hesitate to reach out to us for expert advice and assistance in finding the perfect level access shower that suits your unique situation.