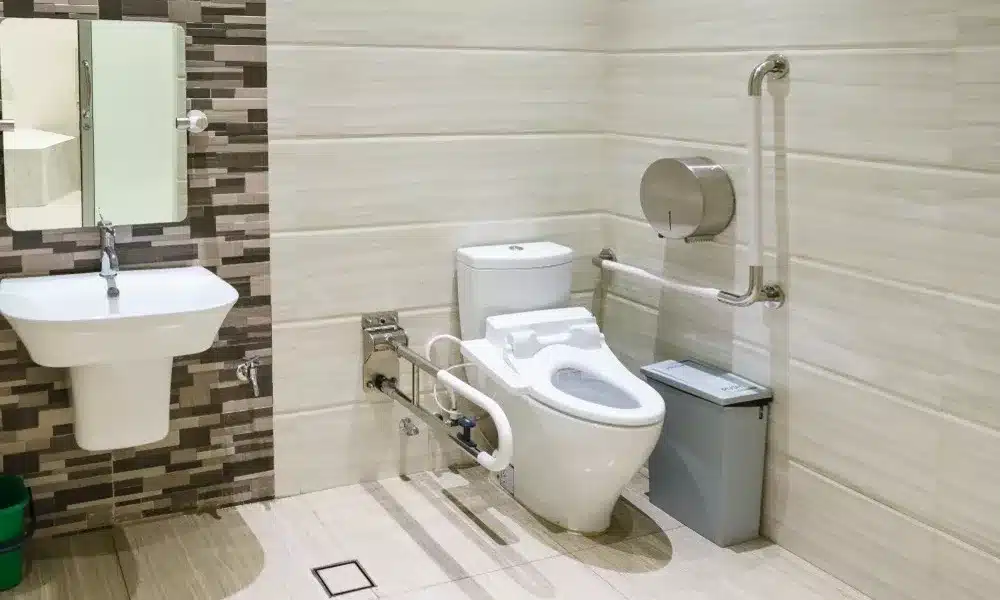 A Guide To Bathrooms For The Elderly
Age Care Bathrooms offer a range of adaptations for those with mobility impairment. Contact our team for more information on our services.
When designing a bespoke type of bathroom for you or a family member it may seem slightly overwhelming. This guide is here to help you understand all the different types of products and fitting that will be best suited for your ideal bathroom for the elderly. Age Care Bathrooms are the leading experts in the mobility sector and have over 20 years experience in designing and installing custom bathrooms to fit our clients requirements. 
Bathrooms to fit your home 
When choosing your bathroom it's important to make sure it fits your needs, comfortable and also fits within your budget. We have a huge range in styles and fittings so that you can design your new bathroom for the elderly with your taste in mind. When picking your style you can add fixtures and fittings that will benefit you and those who use your bathroom. 
Future-proofing your bathroom
If you feel that you aren't at the stage were you need to fully change you entire bathroom yet then Age Care Bathrooms have many fixtures you can add into your current bathroom which will set you up for a good start on future proofing your bathroom to suit your needs. 
Get the right one for your needs
If you are unsure of what you will need then speak to our fantastic team who will guide you through the process from start to finish. They have designed and fitting thousands of bathrooms over the years and have a wealth of knowledge. Also you could get advice from a registered occupational therapist to see what equipment/fittings would be best for your needs.  
Suit your budget
Adapting your bathroom can be pricey but with Age Care Bathrooms we help you to design your bathroom to suit your budget. Your bathroom will be unique and built to your needs and requirements. We will provide a no obligation consultation and quote specific to your bathroom. Our Team are able to offer you very competitive quotes, as we do not use subcontractors. 
Walk in bath
 Age Care Bathrooms provide an excellent range of walk in baths. We know that after a long day, nothing beats a good soak. Our walk in baths are perfect and have a very low entry threshold with an inwards opening door. If you require a shallow bath to meet your needs then there is a range of different ones that can be installed. We can add assistance poles or grab rails to help you get in and out of the bath.  Age Care Bathrooms will also install an anti slip floor in you bathroom to ease your mind and keep you safe. Also they will get rid of your old bath for you, so that you are free to use your new bath as soon as possible.  
Bath seat
Whatever addition you need for your bathroom, we at Age Care Bathrooms can provide for you what you want. We have a range of different bath seats and also seats that can be lifted into the bath tub via a lift/hoist. Make sure to speak to one of our friendly team about what exactly you will need in your bathroom.
Bath lifts and hoists 
A bath lift will gently lower you down into a bath tub. Your occupational therapist may suggest a bath lift/hoist to help you in and out of the bath, or you may have seen them for yourself and be interested in having one in your home. Again, there are a range of options available and we can help you pick which is best for you and tailor it around your budget.  
Walk in showers (Wet rooms)
If your mobility is very restricted due to old age, or you are a wheelchair user, then a walk in shower for the elderly and disabled (also referred to as a wet room) may be more suited to you. With a walk in shower, there is no step or tray to walk over when entering the shower area, the floor is completely level meaning that entering and existing the shower is as easy as possible. When it comes down to designing your walk in shower or disabled wet room, you can pick between a range of doors and screens.
We have a great team at Age Care Bathrooms who will make sure the whole room becomes water tight, so there is no need to worry about any leaking. We also make sure the entire wet room floor will be covered in anti slip flooring. Wet rooms are also extremely easy to maintain and clean!
Shower seats and controls
When choosing a shower seat and controls you should consider safety and comfort. When designing your bathroom for the elderly you pick what suits you best. Shower seats come in a variety of shapes and sizes, fixed or not. We recommend to always make sure you take extra care when using a shower seat and to make sure you have handrails to help you get up and down. When choosing you control it's important to think about what type of bath/shower you are using and will these controls be best suited to you or your loved ones.
Remember that Age Care Bathrooms have a wealth of knowledge and experience in this area and will be happy to discuss the many different options for you. So why not give Age Care Bathrooms a call to explore your options today? Call 0800 808 5897.