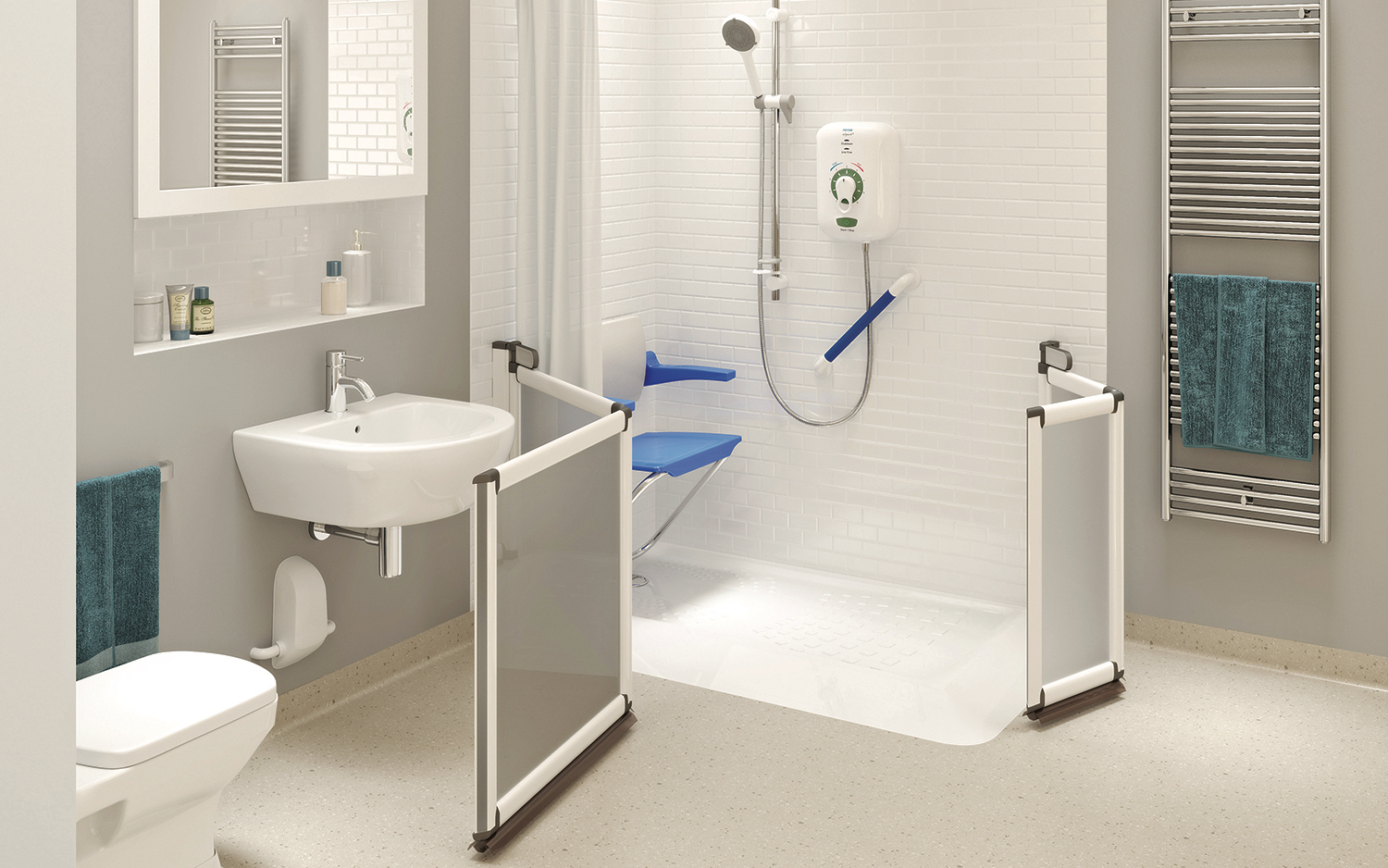 Mobility Bathrooms | For the Elderly & Disabled
Future proof your bathroom
Stylish, practical and safe
Let's Talk
As one of the UK's leading independent mobility bathroom specialists, we offer a complete solution to meet all of your individual bathing needs. From disabled showers and wet rooms to luxury walk in baths, we can help you transform your bathing experience. Call us today on 0800 808 5897 to speak to our team.
If your mobility levels are restricted, due to a disability or slowing down in old age, being able to use your bathroom confidently & comfortably is a huge part of remaining independent. It is an area of the house we all have to visit everyday, so make sure your bathroom is somewhere you can relax and enjoy.
Designing Your Mobility Bathroom
To help bring your bathroom up to date with your needs, we can help you choose the best mobility bathroom design as part of our service to you. We believe that having a practical bathroom should not mean that you have to compromise on style.
After listening carefully to your preferences & requirements, we will assist you in choosing between the vast range of easy access showers and baths available on the market. We will then offer you a free, no obligation quote including all fitting services. There are no hidden charges, our team carry out the installation and the removal of your old bathroom all included. We don't trust subcontractors to carry out as good of a job as we can!
Call 0800 808 5897 to discuss your dream bathroom with us today! Or fill out a contact form online and a member of our team will be in touch with ASAP!
Mobility Bathing Solutions to Keep You Safe & Comfortable
Whether you choose a walk in bath, walk in shower or level access shower, our range of accessible bathroom products are all designed to keep you safe and comfortable. You can have peace of mind knowing that the Age Care Bathrooms team have over 20 years combined experience installing mobility bathrooms for the elderly & disabled.
We understand that safety is a top priority. That's why with every mobility bathroom we install, we offer:
Once finished, you can be confident that you have a beautiful new mobility bathroom which you will be able to use comfortably for years to come.
We can help you choose
a walk in shower, a level access shower or a mobility bath tub that suits your personal needs and comfort
Anti-slip floors
fitted as standard with all our Installations
Maintenance Free walls and ceilings in our mobility bathrooms
We provide a complete service without the need for subcontractors
Our free, no obligation quotation includes all fitting services such as –
Plumbing
Electrics
Joinery
Flooring
Waste Removal
We have a wide range of accessories for your mobility shower and bathroom, from taps to toilets, plus all safety fixtures.
To discuss your exact requirement please speak to one of friendly team members
Frequently asked questions about Mobility Bathrooms
Do Age Care Bathrooms supply and install everything?
Yes. We are completely independent, meaning that our highly trained team carry out ALL the work. Unlike some of our competitors, we do not contract out any stage of the bathroom installation.
Will there be any mess or disruption to my home?
We take care to cause as little disruption as possible to your home. This means putting down dust sheets to protect your floor, cleaning up the mess & the old bathroom parts and being considerate when moving around your home.
How long will it take to fit my new bathroom?
In many cases, we take as little as 3 days to fit mobility bathrooms, from start to finish. As we carry out all the work ourselves, we do not have to wait on external contractors such as plumbers or electricians, which can slow down the process.
How much does a mobility bathroom cost?
As each mobility bathroom we install is unique, we will provide you with a free, no obligation consultation and quote specific to your bathroom. Being independent, we are able to offer very competitive quotes, as our costs do not need to cover subcontractors such as plumbers and electricians.
My current bathroom is small. Can I still have a mobility bathroom?
Of course! We will work to your requirements, which involves our team coming to see your bathroom and advising the best solution, based on the space available.
Will my mobility bathroom be easy to maintain?
Yes. We understand that those with limited mobility need a bathroom that is not only easy to use, but easy to maintain as well. For instance we can install waterproof, maintenance free walls and ceilings that will be resistant to damp and mould.
All Our Consultations Are Free with No Obligation
Either call us first or if you would like to book a consultation now,
simply let us know what date and time suits you