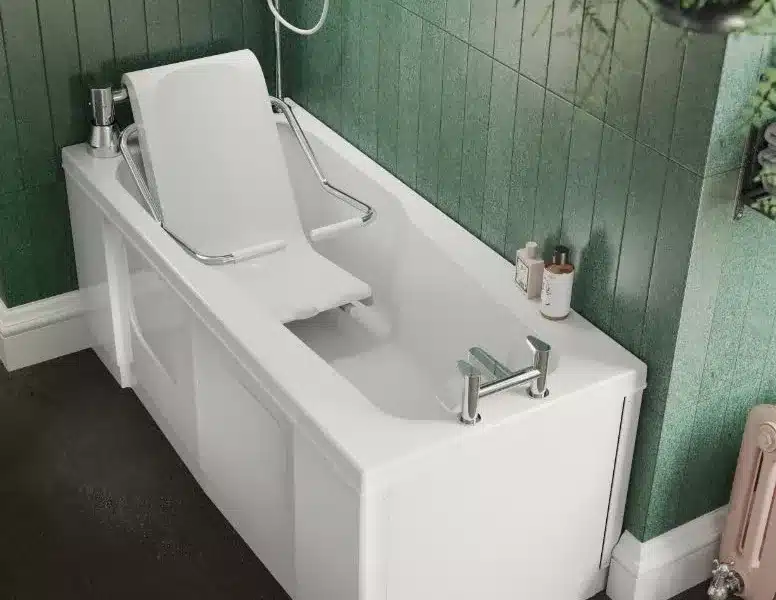 Who are Walk in Baths for?
We all love a bath. It's one of the world's favourite ways to relax and unwind after a long day. This is why it's so important to get in and out of the bath safely, without having to worry about falling – a bath should not be stressful! 
At Age Care, we believe that having a safe bathroom not only gives you peace of mind but also gives you a greater quality of life. You should never have to be fearful when taking care of your hygiene and relaxing. 
If you're considering accessible bathroom options and would like to know more about walk in baths, you're in the right place. Our blog will widen your understanding but, if you're still unsure, our experts at Age Care give real advice and solutions for people with mobility problems.
What are the benefits of a walk in bath tub? 
Home improvements

– A walk in bath is a great way to improve your home. It can be used by people of all ages and can also be used by people with disabilities and mobility issues.

Added safety

– With no large step to get over, non slip flooring and lifted seating, your chances of slipping are greatly reduced. 

Pain management

– Warm water is a proven combatant. 

Added relaxation

– Having bath jets is an option, adding to your comfort

General health benefits
Take a look at our blog 'benefits of a walk in bath' today.
A walk in bath tub is easy and safe to step into.
The walk-in bathtub has been around for several years now, and it's become increasingly popular among elderly people and others who need help getting into the tub. The idea behind this type of bathtub is to make it easier for those with mobility issues or other disabilities to get in and out of their bathing environment on their own. You could also try a walk in bath with shower, to get clean quickly! 
Each walk in bath tub is different, so it's important to find the perfect one for you.
The good news is that there is a variety of walk in bath tubs on the market. You can choose from several different styles, sizes and materials. Some are made of acrylic or plastic, while others are more like traditional baths with steel frames and ceramic tile covering the outer surface.
You may be thinking that installing your new walk in bath tub will be a complicated process that requires the services of an expert contractor, but this isn't always the case. Agecare bathrooms can fit a disability bathroom in under 4 days! Walk in baths have come a long way since they were first developed back in 1884 by Jules Gravereaux who was looking for better ways to help disabled veterans navigate through life after war torn France! 
Walk in baths provide everything you would expect
Walk in baths are designed to be used by people with disabilities, the elderly, or individuals who have mobility issues and give everything you would expect from a regular bath. There are non-slip, different depths and widths and even jet or jacuzzi-style options! You can also get a walk in bath with shower, for the times where you want to quickly get clean.
Who is a walk in bath for?
Walk-in baths are a great option for people who are elderly or disabled, as they can help you live independently. If you have arthritis, a spinal cord injury or other mobility issues, then a walk in bath tubs with shower may be the answer to your problems. A walk-in bath allows you to bathe yourself and even take showers because it is equipped with hand rails and shower heads that will allow you to shower without assistance from another person.
A walk-in bath is also great for anyone who needs help getting in and out of the tub due to an injury or illness. When using an ordinary tub, many people need assistance getting in and out of their baths which can be difficult when they only have one hand available due to injury or illness
We hope this article has helped you understand what a walk in bath and walk in bath with shower is, and how it could benefit your life. If you're still unsure about whether or not one is right for you, we recommend getting in touch with our team at Age Care today so they can answer any questions that may be lingering in your mind.