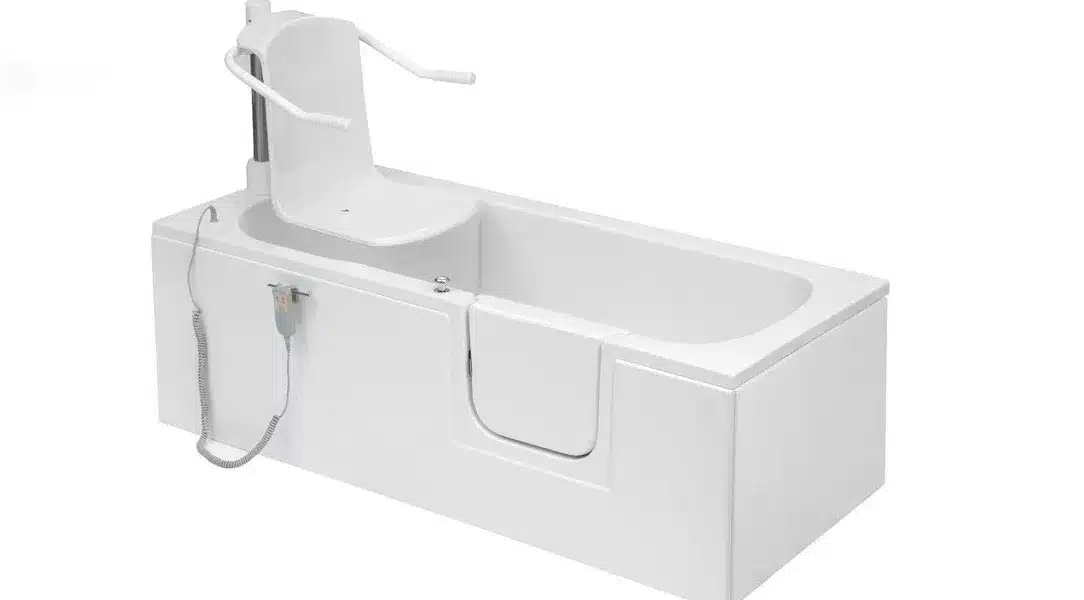 What Are Walk in Baths and How Do They Work?
A
walk in bath
is a great way for those with limited mobility to maintain their independence while bathing. We believe that taking a relaxing bath is a very private experience, providing a chance to unwind, relieve stress and enjoy a little 'me time'. Yet, if this time is interrupted by the worry of needing assistance getting in and out of the bathtub, the whole experience can be compromised. By providing easy access in and out, a walk in bath can offer you the peace of mind you need while bathing. 
So what do we mean by a walk in bath? 
A walk in bath is a bathtub with a watertight door that opens and closes, allowing for easy access in and out. The base of the tub is usually slip resistant, to ensure that those with unsteady balance feel safe while entering and exiting. There are different types of walk in bathtubs available, to meet different levels of mobility and to fit into different bathroom dimensions. There are also different features which you can choose from, such as walk in tubs with spa bubbles, chromotherapy lighting and heated seating. 
How do walk in baths work? 
A walk in bath works largely in the same way that a regular bath does. The only differences are how you get in and out, and how you fill up the bathtub and drain it. 
To help you visualise it, here's a step by step guide for how to use a walk in bathtub: 
1) Step into the bath via the entry door. 
Door heights can very so make sure you ask the fitter about the bath door step height before installation. We can supply and install walk in baths with low step entry doors. 
2) Close the door and lock in place to form watertight seal. 
Depending on which type of walk in tub you have, take a seat on either the raised seating or on the powered seat which will gradually lower you down. Ensure that the bathtub door is fully closed and sealed to prevent leaking. The fitter will demonstrate how you can do this with ease. 
3) Fill up the tub with water. 
We are often asked about this step, as it can feel strange at first to sit inside the bathtub while it fills up with water. This is completely understandable, which is why we take measures to make this part as comfortable as possible. After a few times doing it you will forget that you ever used to fill up the bathtub before getting in! 
All walk in baths that we install are fitted with a thermostatic valve, which regulates the temperature of the water, ensuring that it will be at the optimum temperature while filling up. This process does not take as long as some might think, just a few minutes. The length of time will depend on the water pressure in your home; an additional pump can be fitted if necessary to speed up the process. 
4) Sit back, relax and enjoy your bath. 
Bathing not only keeps us clean, it is a therapeutic experience that benefits the mind and the body; it is a time to enjoy. Whether it is at the end of a long day or just a chance for you to savor a little time to yourself, enjoy your bath with the added peace of mind that you can get in and out with ease! 
5) Drain the bath, open the door and walk out. 
It is important to let the bathtub completely drain before opening the door and walking out of the bath. Waiting for the tub to drain does require a little patience, but again this is something that you will become accustomed to overtime. It shouldn't take more than a few minutes for the bath to fully drain. We would recommend having your towel close by and ready to wrap around yourself. 
To make this wait more comfortable, some walk in bathtubs are available with the added feature of a heated seat. Ask about this feature before installation if it is an option you would like to explore. 
How to clean and care for your walk in bath 
The maintenance of a walk in bath is generally the same as that for a regular bath. As with any bath, it will need cleaning relatively frequently to prevent dirt building up, but it does not require anything more strenuous than that. Just be careful when cleaning around the seal on the door, as it is crucial that this remains in place to prevent leaking. 
As long as you look after your walk in bath, it will look after you! They are built to last and are a great long term investment, if they allow you extra years in your home. 
Want to speak to an expert? 
Operating across the UK, we are a family run business with years of combined experience working in the
mobility bathrooms
industry. We can supply and install a wide range of makes and models of easy access
walk in baths
. 
As we discussed above, there are many different types of walk in bathtubs available and different add on features that can meet particular requirements. If you are struggling to get in and out of your bath, let us know your requirements and we will help you find the perfect solution. We offer free no obligation consultations and quotes so don't hesitate to give us a call today on 0800 808 5897.