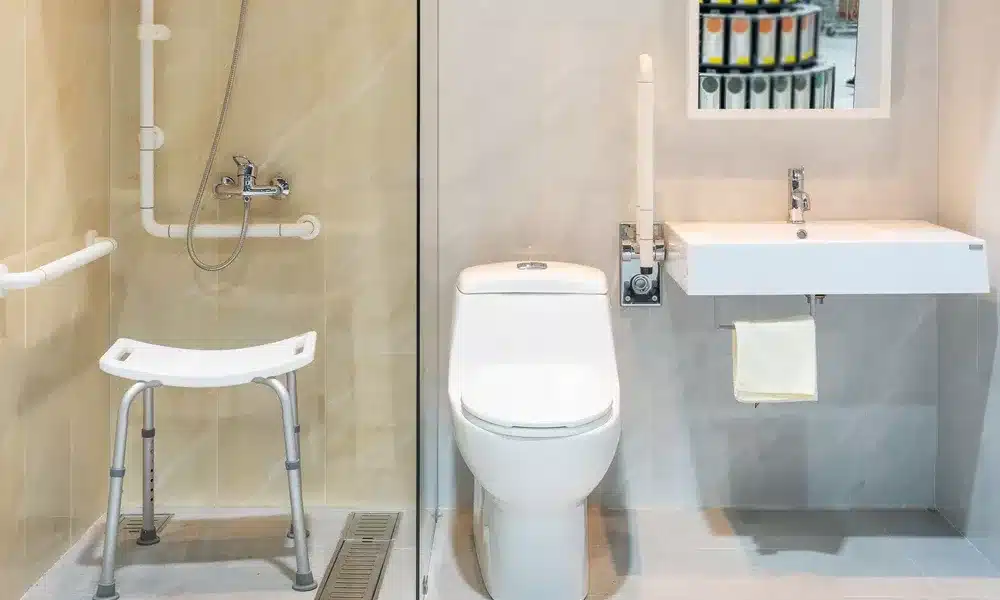 Mobility Shower Accessories
Mobility showers are meant to offer a practical solution to those with restricted mobility. They help improve the whole shower experience, by enabling safety, comfort and independence, which further leads to an all-round better quality of life. Having the right accessories in mobility showers is needed to achieve this goal.
At Age Care Bathrooms, there are certain essential accessories that come with all installations of mobility showers.
Grab Rails
These may also be referred to as handrails or grab bars and their primary job is to offer support and lessen the risk of falling in mobility showers. If your movement is restricted, grab rails enhance safety, ensure peace of mind, and give a sense of independence. They are not only useful in the shower area, but the rest of the bathroom as well, and are good as a standing aid and weight support as well.
Non-Slip Flooring
Even for those with full mobility, conventional showers have low friction that enables the risk of falling in the shower. So, it is very important to use non-slip flooring in mobility showers and other parts of the bathroom as well. Non-slip flooring solutions enhance high friction, as their surfaces are not smooth, which helps in reducing the risk of slipping.
Shower seating
Having shower seating in mobility showers may often be overlooked, but they are very necessary accessories. Shower seating greatly improves the showering experience, by providing comfort, as well as safety. They also provide support, as most of the strain from standing is taken care of.
Thermostatic Shower Protection
These are very important accessories when installing mobility showers, as they help avert likely burns hazards. Thermostatic shower protection valves are a worthy investment, as they aid in the regulation of water temperature. Unlike manual mix shower valves, they respond swiftly to changes in temperature by making an adjustment to the pre-set temperature.
Lever Taps
With limited mobility, conventional taps can be difficult to operate, as they cannot be turned on and off without gripping the handles firmly and turning them a couple of times. But with lever taps, turning on and off is simple, and can be done as quickly as needed.
Safety Glass
Having safety glass in mobility showers also aids safety for those with restricted mobility. With this, the risk of slipping is avoided, as the safety glass prevents water from getting on bathroom floors from the shower area. They are also a more hygienic option for mobility showers than shower curtains because there is no room for the growth of moulds and mildew. This further makes them a low maintenance option, as cleaning is easy.
Easy Clean Walls
Having easy clean walls in mobility showers makes for feasible maintenance and aids peace of mind. With limited mobility, maintaining the walls of your mobility shower can prove extremely difficult. The goal of mobility showers is to improve the whole shower experience for those with limited mobility and installing waterproof walls that are mildew and mould resistant is all that is needed.
However, based on individual needs and preferences, some other additional essential accessories may be needed.
Toilet Seats and Stools
Since it is an already established fact that mobility shower rooms can have toilets, the addition of toilet seats and stools are necessities for those with restricted mobility. They enhance ease of toilet use, thereby ensuring comfort and playing an important role in promoting independence.
Long Handle Bathing Aids
These are shower-heads and body brushes, as they provide practical solutions in mobility showers. There is no stress of trying to get to body parts that may prove difficult. Especially when those with restricted mobility are alone, they can easily have a thorough shower with no hassle whatsoever.
If getting a mobility shower for yourself or any other person is something you are considering, Age Care Bathrooms is happy to cater to your needs at every step of the way. Our mobility showers are designed from the ground up and are suited to your preferences because we take your unique mobility requirements into consideration.
For a free consultation or begin the stages of installing a wet room in your home, call 0800 999 8994 or click here.