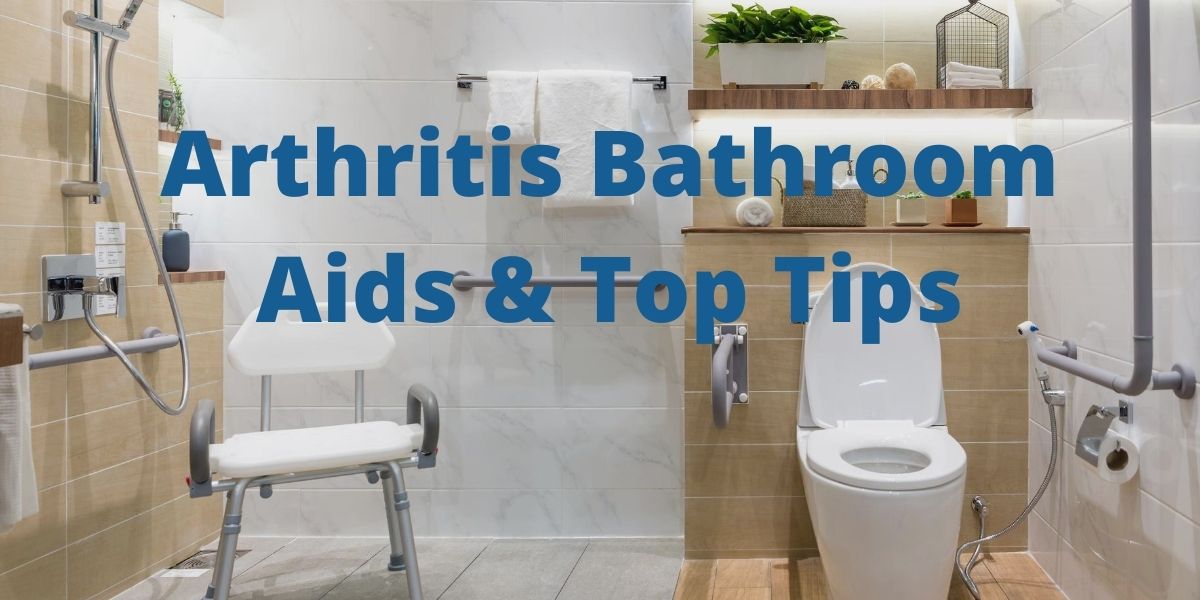 Arthritis Bathroom Aids & Tips For Bathing With Arthritis
A nice relaxing soak in the bath, or a warm, steamy shower are both great ways to ease pain and stiffness from arthritis. But, for many with this disease, bathing & showering without assistance can be very challenging. Especially in the mornings which is when the pain and restricted mobility tends to be at its worst.
From having to unscrew fiddly shower gel bottle tops, to lathering this over your body & hair, to getting yourself dry afterwards, there are a number of difficulties to overcome. Even just getting in and out of a shower or bath and having to balance yourself can be tricky if your arthritis is severe. Fortunately, there are some arthritis bathing aids and top tips which can help to make your daily routine much easier when it comes to using your bathroom.
As mobility bathroom specialists, we have combined the latest expert advice from occupational therapists with our own teams extensive knowledge to put together our top bathing tips for arthritis. These bathroom adaptations and hacks will help you to regain your bathing independence, so you can clean yourself every day without additional discomfort or embarrassment.
Best Arthritis Bathroom Aids & Top Tips
Non-slip flooring is essential
Despite usually being the smallest room in the home, the bathroom is where most slips, falls and injuries occur. And if your mobility is restricted because of arthritis, the chances of this happening are much greater. When balance and dexterity are compromised, an already slippy surface can quickly become a recipe for disaster. To prevent nasty falls and injuries, non-slip flooring in the bathroom is essential.
If you use a traditional bathtub or a shower stall, make sure you have a non-slip grippy bath mat which covers the entire bottom surface, as well as a mat placed next to the bath/shower to step on when you get out.
Alternatively, if you require a more complete solution, you may want to consider having a new mobility bathroom or wet room installed, with built-in non-slip flooring.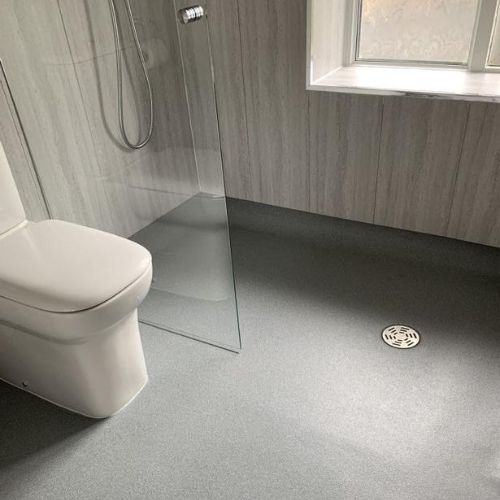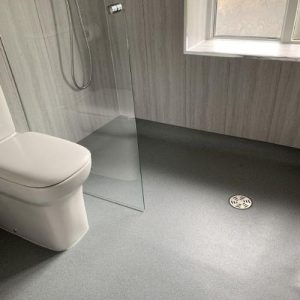 Sit on a shower seat
A shower seat is another way to reduce the risk of slipping or falling while showering. This one piece of equipment will make showering a much more comfortable and enjoyable experience for those with arthritis. It takes pressure off achy knees and hips, as well keeping you stable so you can relax whilst washing your hair and body.
There are a range of options available, such as a fold up seat attached to the wall, or chairs with wheels which can be wheeled in/out when necessary. You can learn more about our range of walk in showers with seats here.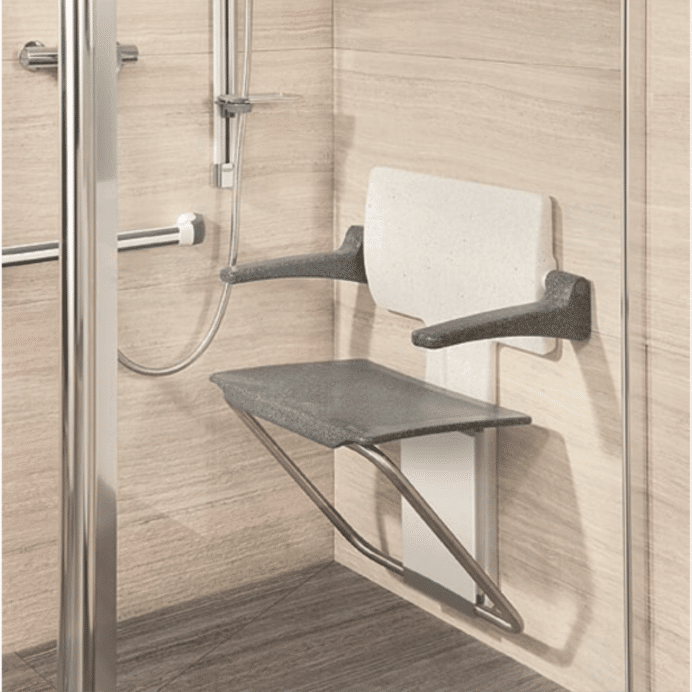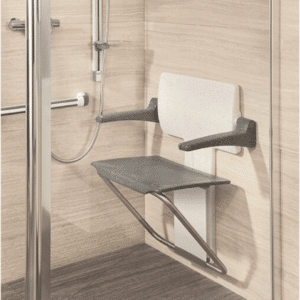 Handheld Adjustable Shower Heads
If you do opt for a shower seat (or even if not), you'll also need a handheld adjustable shower head for ease of use. Positioning yourself under a fixed shower head is difficult to get right, and you'll have much less control of where the water is going.
It's also a good idea to move the shower head holder lower down on the wall so it can be reached while seated. This way you can rest the shower head while seated if you need to apply shower gel, or if your arms are aching.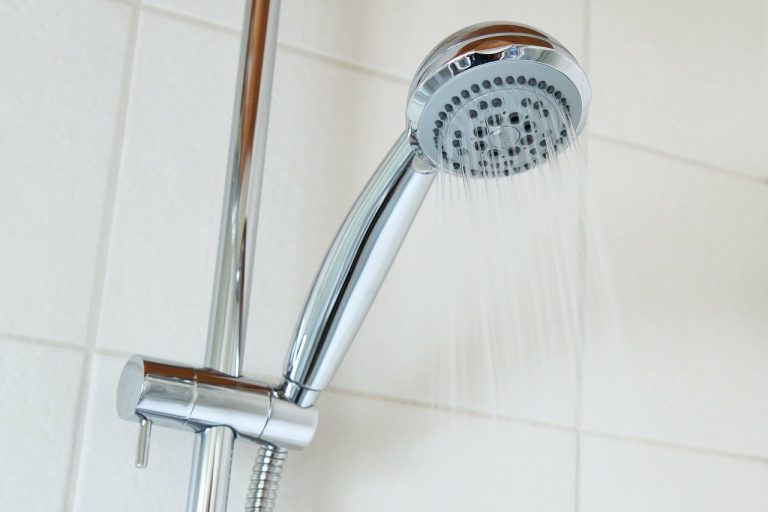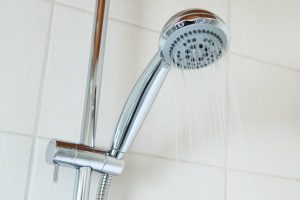 Use grab bars (safety bars)
Getting in and out of the bathtub or shower can be made easier for those with arthritis by having grab bars installed. Professionally installed fixed bars are much safer than temporary 'suction grab bars' which just stick to the wall.
If required, grab bars can also be placed next to the toilet for extra support getting on and off. This is recommended for those who sometimes struggle to get up off the toilet due to arthritis.
Age Care Bathrooms include safety grab bars with all of our mobility bathroom installations and we can recommend where is best to place them for maximum safety & comfort. Get in touch if you would like to learn more.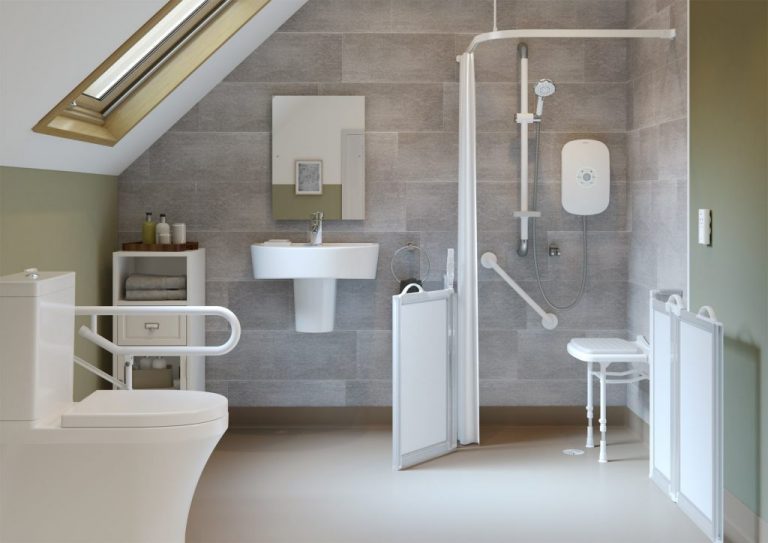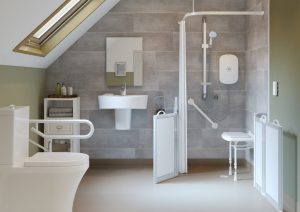 Use pump bottle soaps & shower gels or wall dispensers
Twisting bottle tops and squeezing out soap/shower gel requires grip and dexterity (especially when they are slippery!) which can be difficult for those with arthritis. You can make this easier by using shower gels and soaps with pump bottles.
Alternatively, you can fix soap dispensers on the wall which you can fill with your favourite shampoo, soap and shower gels.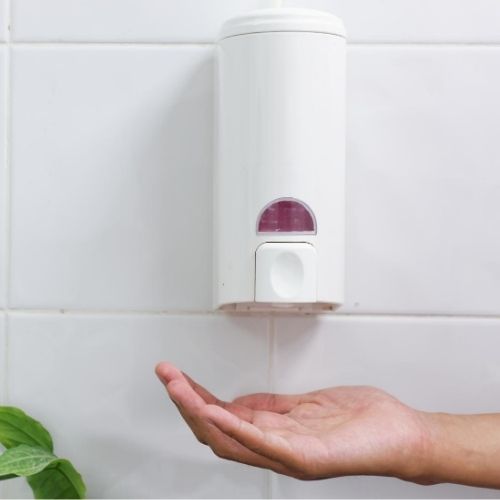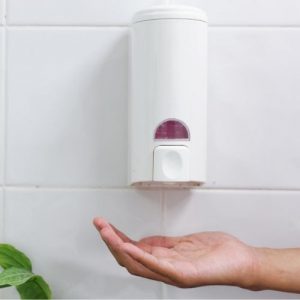 Use taps with levers
Twisty taps and awkward round knobs to change the temperature can be difficult to grip if you have arthritis. Instead you should consider changing these to levers and/or buttons which are much easier to use.
We have access to a wide range of easy-to-use bathroom faucets which can be installed in your home. Get in touch if you would like to learn more about our mobility bathroom adaptations.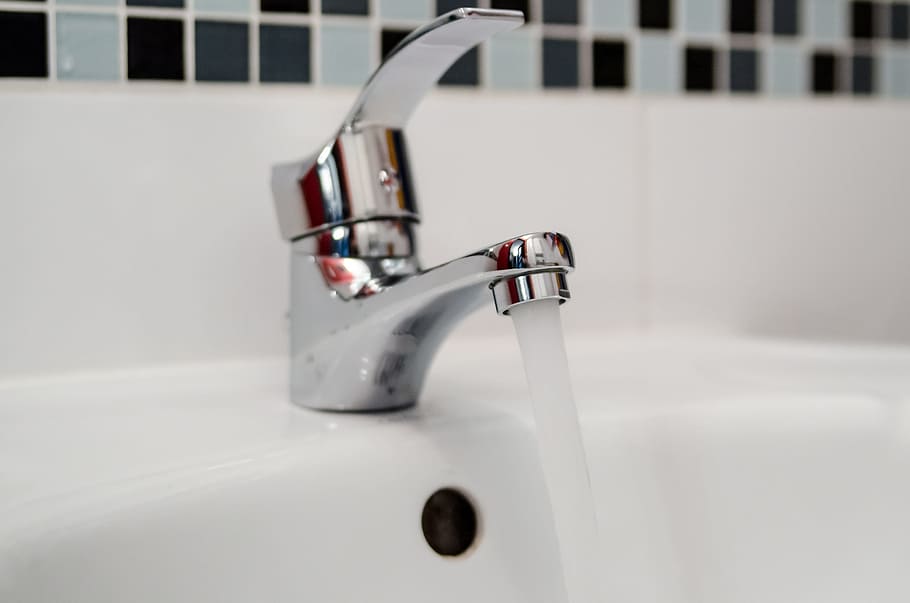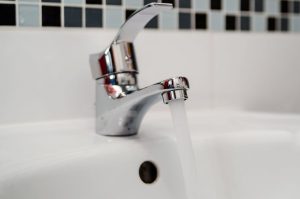 Use Epsom salts in the bath
It is reported that one of the many benefits of an Espom salt bath is that it helps to ease the pain and inflammation caused by arthritis. The magnesium in the salts may help to relax your muscles and stiff joints.
Next time you step into the bath (with your non-slip flooring and grab bars of course), why not add some Epsom salts to see if you experience these benefits for yourself?
Use a long handled mobility bath brush
Holding onto a sponge and washing yourself with it is not easy when you are experiencing arthritis stiffness and pain. Instead, you could try a long handled mobility bath brush, which will help you get to those hard to reach areas with ease!
Consider a raised toilet seat
People with severe arthritis can have a challenging time getting up from a toilet seat. It's something that many of us go without thinking about. Raised toilet seats can help to minimize the problem and reduce the risk of injury. The additional height provided by a raised toilet or adaptive aids provide an effective solution.
These should be considered as well as safety grab bars fitted to the walls, to help raise and lower yourself onto the toilet seat.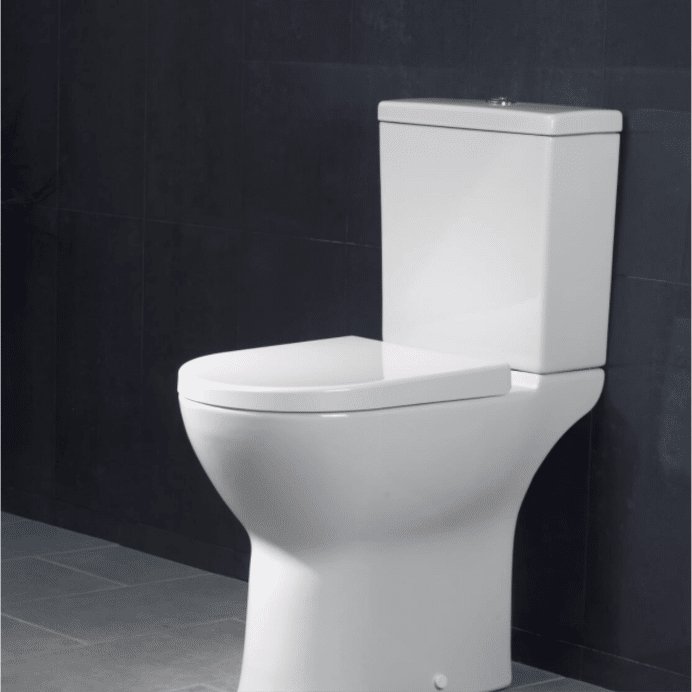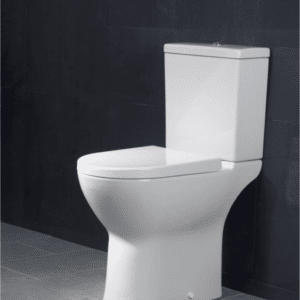 Walk in baths
If you enjoy a long, warm relaxing bath but getting in and out has become too difficult due to arthritis, a walk in bath may be for you. A walk in bath is a bathtub with a watertight door that opens and closes, allowing for easy access in and out. The base of the tub is usually slip resistant, to ensure that those with unsteady balance feel safe while entering and exiting.
Seats can be added to a walk in bath to make it the perfect luxury bathing solution for those with limited mobility. Get in touch today if you would like to discuss having a walk in bath installed in your home.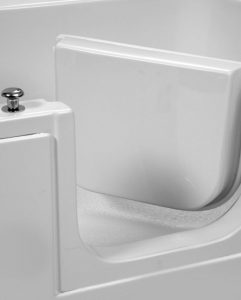 Walk in showers and wet rooms
If you prefer to wash in a shower, but your current shower unit is not practical or safe, a walk in shower, level access shower or all in one wet room can be installed. These are the complete solution for showering independently and safely in your own home with arthritis.
At Age Care Bathrooms, we can provide a bespoke showering solution, taking into consideration all aspects of bathroom safety for those with arthritis. If you would like to learn more about the available options, please get in touch with our team today.