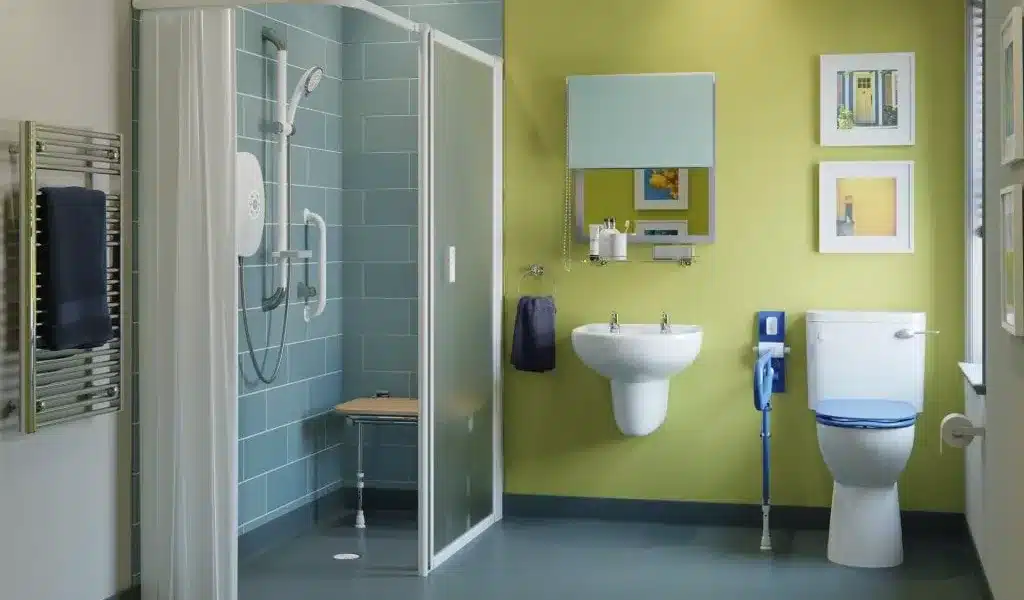 A Guide To Shower Chairs
If you, or someone you care for, is unable to stand in the shower for long periods of time, a shower seat is an ideal solution. They enable the user to shower comfortably and safely without having to balance themselves on a slippery surface. But which shower is chair is right for your needs? Below is some information that may help you to choose the best shower seat to suit your requirements.
If you'd like to learn more about transforming your shower to make it more accessible for your disability needs, check out our mobility showers service page.
What is a shower chair? 
A shower chair is a stool or chair which is designed specifically for use in the shower. They remove the need for the bather to stand up and balance themselves while showering. From simple waterproof chairs that might suffer from fatigue to fully supportive chairs designed for disabled users with heavily restricted mobility, there are many types of shower seats and chairs. They might also take the form of a bench attached to the wall. 
To fit their purpose, they are typically made from waterproof materials and are specially designed to be sturdy and stay in place. It is really important that you don't use a seat which is designed for another purpose, such as a plastic garden chair. Such chairs are not designed to be used in the shower – they are often very slippery when wet, can rust easily and do not have non slip grips (ferrules) on the legs to keep them stable. They can also tip easily and even damage your shower tray.
Multipurpose Shower Chairs 
You can get some shower chairs that serve a multipurpose and double up as commode chairs. These have a cut-away or removable section in the base of the seat and the whole unit may be fitted with a commode pan or placed above a toilet. Since many people who may require assistance or support when bathing might also benefit from a user-friendly commode or a supportive toilet frame, buying a multipurpose chair offers convenience in the bathroom and cost savings. 
Fixed Shower Chairs
Some shower chairs are fixed to the wall so they remain permanently in place. These are often known as space-saving shower chairs as they can be folded up when not being used to save space. Various wall mounted shower seats are available, usually with drop-down feet and a hinge mechanism that enables them to fold against the wall when not required. Keep in mind that these are only suitable if the wall that it is attached to is of requisite strength. 
Why might you need a shower chair? 
Shower seats are useful for those with restricted mobility, as well as those who might feel unsafe or uncomfortable standing for a period of time under the shower.  Somebody might feel unstable in the shower for a number of reasons including:
Pain or weakness in your legs
Breathlessness
Back pain
Unable to bend to reach your feet
Balance problems or dizziness
Key features to look for in a shower chair
When looking for a shower chair for your comfort and safety, take the following points into consideration: 
Stability – Is it non-slip? 
A good fit – Is the height, shape and size suitable for your needs?
Fast draining – Will it stay wet or can water quickly drain from it? 
Security – Does it come with armrests, footrests and headrests which offer increased levels of support?
Comfort – How comfy is it to sit in?
Ease of cleaning – Are the materials easy to maintain and keep clean?
Strength – Will it be strong enough to hold your weight?
Tilting ability – Does the chair tilt so that a carer can move around it? 
Age Care Bathrooms specialise in making bathrooms accessible for the elderly and disabled. Learn more about our mobility bathrooms, disabled wet rooms and our range of accessible bathing solutions by browsing our website or speaking to a member of our team.