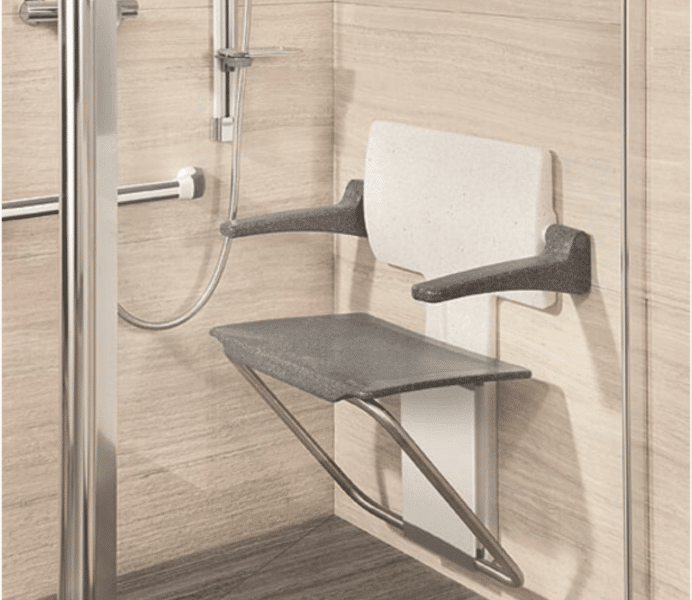 Elderly Bathroom Accessories
As you enter the later stages of life, safety becomes crucial to everyday tasks, with bathing playing a big part. General aids such as grab rails, support frames and anti-slip additions can greatly enhance bathroom safety for those struggling with mobility problems.
This article by Age Care will provide some insight into the essentials for wet room showers and highly beneficial bathroom accessories that will provide ease for users. For further inquiries about wet room showers, be sure to contact our highly knowledgable team. Our team will be more than happy to assist you with any questions. 
Foldaway shower seat
Seemingly simple everyday tasks can become that much more difficult over time, with many choosing a walk-in shower or walk-in bath as an easier choice for their bathing needs. A handy accessory when adapting to this type of everyday washing is a foldaway shower seat.
Easily mounted to the wall and neatly folded away when not in use, these types of seats make bathing safer and more comfortable, especially if you suffer from mobility issues. You can choose from a range of options, from arms and legs for added stability and a padded seat for additional comfort and support. As well as reducing the risks of slips and falls, it can also help to transform your shower into a spa-like experience.
Slip-resistant mat
As you approach an older age, falls can start to become a serious worry, particularly when it comes to your daily bath or shower. One of the best ways to help prevent such an occurrence is to invest in an anti-slip mat.
Whether you choose to place your mat in or outside of the shower or bath, in front of the toilet or anywhere else in your bathroom where water might end up collecting, a slip-resistant mat could be the key to safer bathing. Some even come with the added plus of mildew resistance, depending on the material you opt for.
Additional grab bars
If you experience mobility problems, that relaxing treat of sinking into the bath can become a bit of a nightmare. Lowering yourself in and out of the tub can prove to be a difficult experience. In order to continue your unwinding morning or nightly ritual, one of the best accessories you can pick up are a couple of grab bars.
Inexpensive and easily fitted to the bath, as well as around the toilet for extra grip, grab bars help to maintain balance and provide an additional source of support should you encounter a slip or fall in the bathroom.
Bath step
If you or someone you know is living with dementia or visual impairments, introducing a bath step can greatly assist with general bathroom safety. In addition to grab bars, this type of accessory offers a stable platform by helping to reduce the distance required to step up into the bath.
These work by gripping firmly to your bathroom floor, providing extra support when it comes to getting in and out of the bath.
Long-handled body brushes
Once safely inside your bath or shower enclosure, washing itself can become a little tricky. This is where long-handled body brushes make all the difference. From scrub brushes with bendable handles for arthritis sufferers and curved designs for those recovering from shoulder or neck injuries, there are a variety of brushes on offer.
You can also pick up longer bath brushes with soap inserts. Not only can these types of bathing accessories assist with lathering up, but they can also help to lessen the chance of any nasty slips and falls.
Toilet frame
Mobility issues and conditions that arise with older age can make essential everyday toilet trips somewhat of a challenge. This means that toilet frames are fast becoming one of the more popular bathroom accessories to assist with these difficulties.
The act of lowering onto and rising from a toilet seat can put pressure on certain areas like the knees and joints, which can become painful over time. Adding a toilet frame provides extra support with the pressure moving onto the frame. Some models come with height adjustable handles, adjustable widths and moulded seats for additional comfort.