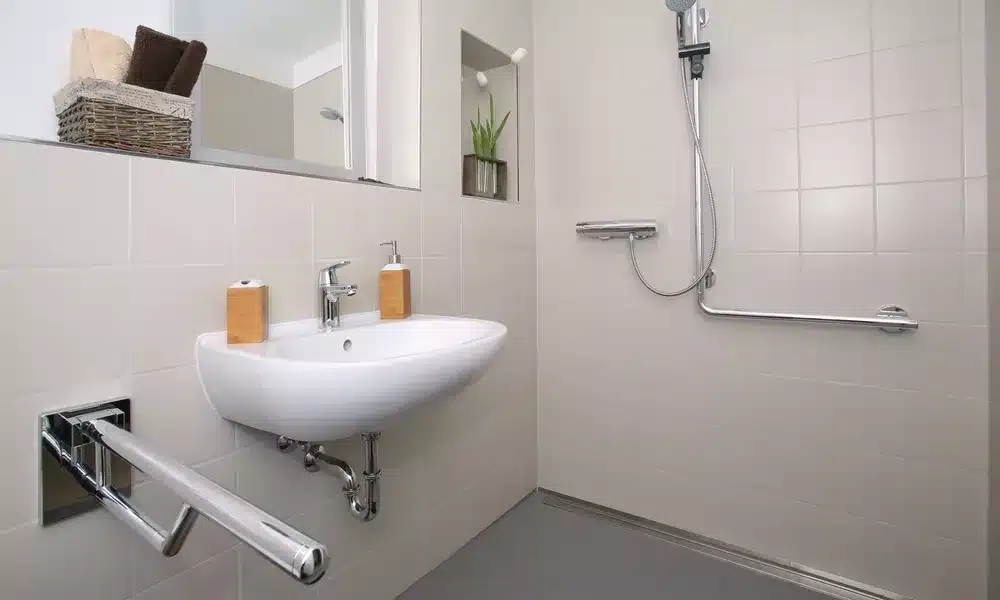 Wheelchair Accessible Bathrooms
We recognise that it might be difficult to determine which bathroom solution is best for you or a loved one with limited mobility. So, if you are looking to remodel your bathroom to this effect, you might want to include a few elements that make it more accessible. 
In the UK, over a million people use wheelchairs, and as the population ages, that number is expected to increase. As a result, many individuals consider accessible bathrooms to be a crucial component of home life. Hence, it is not surprising that many families are looking for accessible design solutions that strike a balance between style and function when remodelling their homes given the sizable number of wheelchair users.
It need not be challenging to create a disabled bathroom, but there are numerous factors to take into account. One of the most crucial things to remember is that aesthetics and style do not have to be sacrificed in favour of utility. 
In this article, we will go over wheelchair measurements and disabled bathroom features.
Wheel chair Measurement
Self-propelled and attendant-propelled wheelchairs are the two primary types of wheelchairs. While attendant-propelled wheelchairs are made to be readily manoeuvred by someone pushing the wheelchair, self-propelled wheelchairs allow the user to push or propel themselves forward.
To ensure comfort and simplicity of use, it is critical to select the appropriate wheelchair size for your needs. Its standard measurements are approximately; height – 36″, width – 25, seat height – 19.5″. 
The height of a wheelchair and the width of its seat is a crucial comfort feature since it affects how the user is positioned in the wheelchair. Poor posture and unintended seat position adjustments might result from a width that is too wide for the user's size. Pressure sores and movement difficulties may result from a wheelchair that is too low in height and too narrow in width.
Accessible Bathroom Features
Take Care Around Edges
Installing square or rectangular basins with protruding edges is never a good idea, whether they are at head height or hip height, for a child or a large adult. In the event that someone falls, this will be dangerous and increase the risk of harm.
Open Area
Make sure to allow enough space when building your bathroom for a person using a wheelchair to enter and move about. Make careful to provide room for grab bars and safety rails even if they aren't currently required.
Safety Railing and Grab Bars
The areas where people with mobility issues are most likely to need grab bars and safety rails should be equipped with them. These should be located near the toilet and shower area and placed at hip height.
Slip-resistant Surfaces
Steer clear of glazed tiles to prevent slick floors. Use Vinyl Altro or Polyflor anti-slip flooring as an alternative for a safer surface, and add slide mats for the added traction to shower stalls and wet rooms.
Showers with Access
If you already have a typical shower with a shower tray, and consider upgrading to a wheelchair-accessible step-free walk-in shower, you can add a shower chair or lounging area. If your bathroom is too small for a broad walk-in shower, think about converting it into a wet room with movable glass panels. In addition to offering step-free access, wet rooms with glass panels insulate the area for enhanced energy efficiency and guard the house's walls and structure against leaks and mould. 
Storage Areas and Shelves
Placing shelves and storage locations where it is essential to reach or stoop down will make them as accessible as feasible. To reduce needless bending and stretching, avoid positioning shelves and storage areas too high or too low.
Comfort Height Toilets
They are designed to be easier to use for those with reduced mobility, or simply to provide a more comfortable height when transferring from a wheelchair. Comfort height toilets are usually 6cm- 10cm taller than a standard toilet. Although this may not sound like a lot if you find it difficult to use a standard toilet it can make a big difference on the knees. The most comfortable toilet height for you will largely depend on personal preference/ Chair height. One step up would be a wash-and-dry toilet with heat seats.
Accessible Basins
Like a raised toilet, a raised wall-mounted concave shape basin will make it possible to place a stool underneath it and need less bending for those who have problems doing so. Ensure that faucets, levers, and taps are simple to use, or think about replacing them with motion sensors or buttons.
Thank you for reading our blog "Factors to Consider When Creating a Wheelchair Accessible Bathroom". If you are looking to create a disabled bathroom that is accessible for wheelchairs, get in touch with us at Age Care Bathrooms today! We are disabled bathroom suppliers.
For a free consultation or begin the stages of installing a wet room in your home, call 0800 999 8994 or click here.