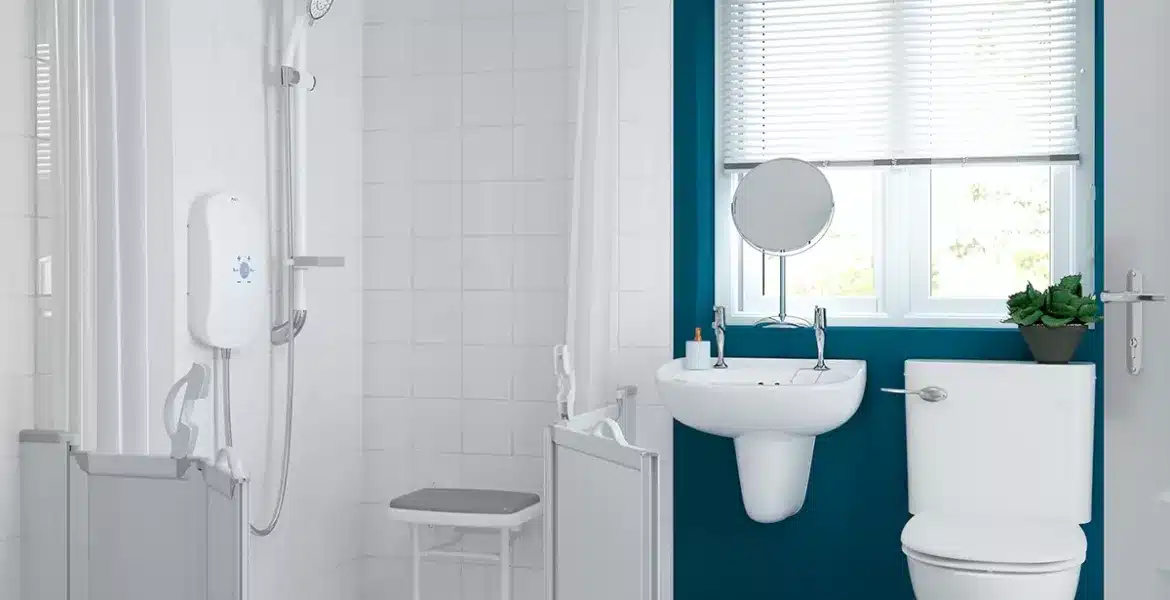 4 Ways to Make Your Disabled Wet Room Look Nice
For disabled users, wet rooms offer the perfect solution by turning the challenges of using the bathroom into a smoother experience. 
These spaces are customised to meet the unique preferences and requirements of each individual and are designed as open-plan areas with no steps, tubs or shower doors to navigate.
In this article, we will delve into some of the top ideas for disabled wet rooms. We will cover various design concepts, providing you with the inspiration necessary to develop a practical, accommodating, and elegant wet room.
Contemporary ideas for disabled wet rooms
A contemporary disabled wet room blends functionality with a sleek and modern design. These wet rooms typically feature clean lines, a neutral colour scheme, and a minimalist aesthetic that allows for easy personalization.
Modern grab bars, shower seats, and showerheads are just a few of the many options available for adding a modern touch to a disabled wet room. 
In addition, contemporary wet rooms can be customised with dimmed lighting or natural light to create a desired ambience that caters to the user's preferences and needs.
Opulent-disabled wet room concepts
Disabled wet rooms can exude luxury without compromising accessibility, with the proper installations. For example, built-in benches, marble-effect tiling, or rainfall showerheads can add elegance to a standard wet room. 
If your budget allows, you can opt for genuine marble to achieve the luxurious wet room of your dreams.
In addition, stone slab flooring is an excellent option for disabled wet rooms as it is both lavish and naturally non-slip.
Disabled wet room ideas with a spa-like feel
A bathroom designed with a spa-like ambience is the epitome of comfort and luxury. For disabled wet rooms, spa-inspired features can transform routine washing into a more pleasant experience.
For instance, spa-like wet rooms typically feature multiple shower heads with varying water pressure, allowing users to relax and clean in different ways. 
From gentle rainfall showerheads to strong jet streams, spa-themed wet rooms provide both accessibility and atmosphere.
Contrasting elements 
Why restrict contrasting elements to just tile designs? It's possible to get creative with the materials themselves. By using a mix of slate, wood, and glass, the wet room featured below creates an eye-catching contrast that makes it one of the most modern wet room ideas on our list.
The combination of these materials adds a unique texture and depth to the space, and the contrast between the smooth glass, rough slate, and natural wood brings a sense of balance and harmony. 
This innovative design approach allows for endless possibilities in creating visually stunning spaces that are both functional and aesthetically pleasing.
Let us help you
We are mobility bathroom installers who have an extensive selection of products that can improve your bathroom experience. Our team has over 20 years of experience in setting up disabled wet rooms. 
If you're interested in exploring additional bathroom ideas or obtaining a disabled wet room installation estimate, feel free to contact us.