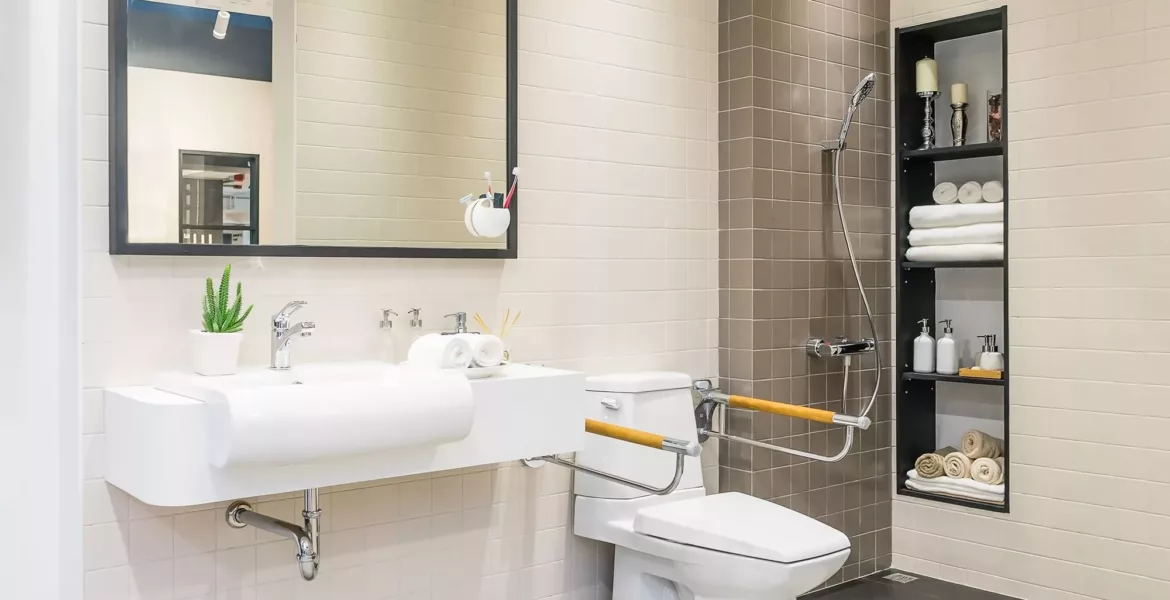 How to Adapt a Wet Room for Disabled Living
Physical disability or impairment can turn even the simplest of everyday tasks while going in or coming out of the bathroom a huge struggle. This leads to dependency on others while severely limiting a person's privacy and sense of freedom.  Here, disabled wet room installation works as a great solution for making the lives of those with disabilities or mobility issues as carefree as possible. Turning a bathroom into a wet room is one of the simplest ways for creating an accessible bathroom and giving users the confidence to remain independent and enjoy a normal life.
Are you looking for disabled wet room installation? Get in touch with our specialists at Age Care Bathrooms today.
Why choose a wet room for disabled living?
Disabled wet room installation might not be your first thought when thinking of modifying your existing bathroom for disabled living; however wet rooms are worth considering because of the safety and convenience they can provide to users with disabilities or mobility issues. As they have an open plan, moving around is easier whether you have a mobility impairment or use a wheelchair. Moreover, there's no need for a shower tray in wet rooms as they are completely tiled and sealed, making washing, showering, and keeping them clean easier.
Ways to adapt a wet room for disabled living
Here are a few adaptations to consider during disabled wet room installation:
A wet room for disabled users must be more spacious compared to a basic wet room, both to allow a wheelchair user to freely move around, and to potentially allow for a helper or carer to be with them too.
Install anti-slip flooring
Anti-slip flooring is a must have when it comes to disabled wet room installation as it helps minimise the risk of falls and slips. You can choose from a wide range of flooring options including non-slip ceramic tiles and non-slip vinyl products.
The door of a wet room must be wide enough to easily let a wheelchair user enter into the room. Besides, the door must ideally open outwards to maximise the space in the room and also to make sure that the door isn't blocked from the inside in case there's an accident.
Choose a suitable shower seat
A shower seat allows the user to comfortably sit and wash inside the shower. It takes the weight off your feet, reducing discomfort in the joints and also the possibility of falls and slips in the bathroom. Now, when it comes to choosing between the shower seat options – fixed and foldable, it all comes down to the specific needs of the user. Fixed shower seats are ready-to-use at any time, and don't need to be opened & closed. Foldable shower seats, on the other hand, use less space but need to be folded up & down. 
Install toilet and wash basin at the convenient height
The toilet and wash basin can be modified even in terms of their placement and height during the disabled wet room installation. Toiler risers and adapted toilet units, for instance, are some great options to consider for increasing ease of use and promoting independence for the user. Likewise, when installing the wash basin, make sure to install it at a height that's most comfortable for the user. In case other members of the family would also use the wet room, you can opt for an adjustable sink.
There are plenty of stylish and practical accessories out there that can provide an extra layer of safety and accessibility for disabled users. Research well to find the right aids for your needs and make your disabled wet room as safe and comfortable as possible.