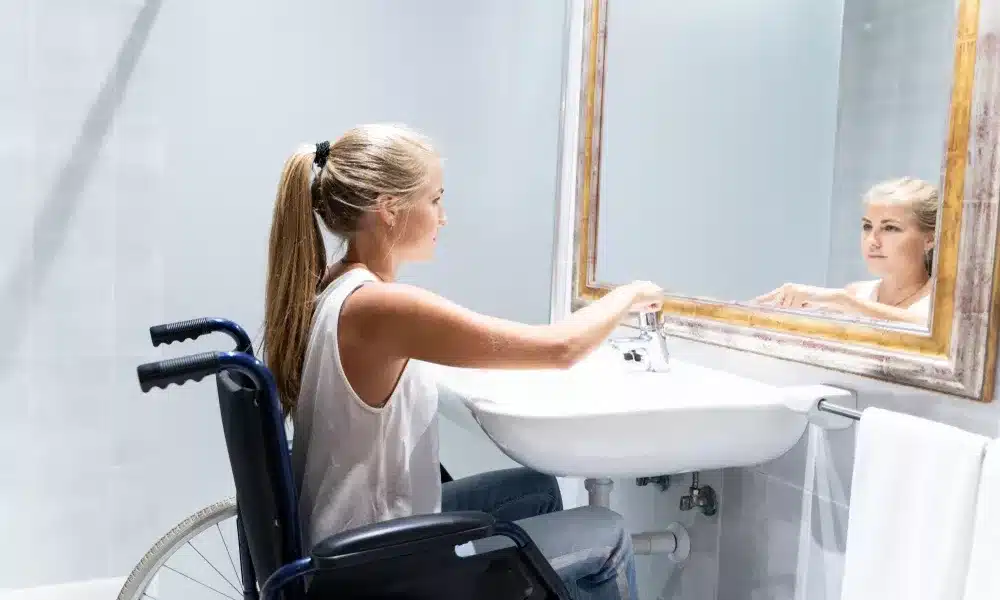 8 Ways To Make Your Bathroom Viable For Wheelchairs
Of all the rooms in your home, the bathroom is one of the hardest for wheelchair users to access. It can take a long while to get used to navigating the bathroom with a wheelchair – taking a bath itself becomes a difficult task, and dealing with it day to day can add frustration, turning your bathroom routine into a foreboding experience. But there are options available to make your bathroom wheelchair accessible and the whole process smoother and more pleasant.
Here, we take a look at the things you can do to make your bathroom more accessible, and less of a hassle, for wheelchair users. The Age Care team have been serving the mobility and disability communities for over 20 years. During this time we have provided all our delighted customers with fully tailored mobility bathroom solutions to fit their needs and budgets.
Accessible Doors For Wetrooms
The first thing you should look at is how easy it is for wheelchair users to access the bathroom in the first place. Narrow doorways make it much more complicated to navigate – it's possible that your current doorways are too narrow for a wheelchair to fit, meaning the room is as good as off-limits to anyone with a wheelchair.
Widening the doorways will make the bathroom instantly more accessible and approachable, and should be a top priority when looking to modify any bathroom in the name of mobility. A minimum distance of 32" between frames should grant free entry and exit to any wheelchair.
Bathroom Adaptations
Installing balance bars on the walls will enable movement without the use of a stick or chair. Having bars in easy to reach locations will also enhance the safety of the bathroom, giving the user multiple points of stability no matter where they are in the room. Balance bars are especially useful in smaller bathrooms, cutting out what would be an uncomfortable experience when approached with a wheelchair or walking frame.
View our dedicated bathroom adaption service for more information on the various utilities we can install for ease of access.
Raised Toilet Seats
Using the toilet can become a much more intensive procedure if you don't modify it beyond its basic state. It can be especially taxing if the toilet is particularly low down so you will want to ensure that it is raised. You can install a plinth to raise the toilet, or you can use a raised toilet seat for the same effect. Making tasks like these easier is the goal of modifying your bathroom for wheelchair users.
Space Creation With Mobility Bathrooms
Having cabinets under the sink cuts off vital space which could be better used to create easy access for a wheelchair. They also complicate the use of the washbasin and mirror. A fully accessible bathroom means easy access to everything inside, removing obstacles will help you achieve that goal. For smaller bathrooms, creating any amount of space is critical, so removing your low level cabinets will dramatically improve navigation without creating any extra complications.
It's important to ensure that you have enough room to turn your wheelchair around, particularly so if you are alone. Getting rid of cabinets will help make this attainable, especially around tricky areas like the sink.
Level Access Showers & Walk In Baths
Having a shower or bath creates some of the most immediate problems in the bathroom for wheelchair users. You might think that the only alternative is installing a walk-in bath or a level access shower, but there are other, more affordable – and much less disruptive – ways to work around this problem.
Shower Chairs
For those unable to stand for extended periods of time, the use of a shower chair makes using the shower far more pleasant. Shower chairs are adjustable and come with or without a back support.
Bath Lifts
Getting in and out of the bath might be too much for someone with mobility concerns. Installing a bath lift or a floor-mounted bath hoist will facilitate ease of use, taking away the physical challenge of lowering yourself into the bath then lifting yourself out.
Slip Resistant Flooring
Carpets, rugs, and bath mats are a potential hazard if you travel from room to room in a wheelchair. To make your bathroom safer, think about replacing your carpet with tiled or hardwood flooring. Slip-resistant mats on the bathroom floor, in the bathtub, and in the shower will increase safety all around the bathroom. Rubber ramps may also need to be installed to make thresholds safer and easier to manage.
Contact Age Care Bathrooms for more information on how to make your bathroom viable for those in wheelchairs.