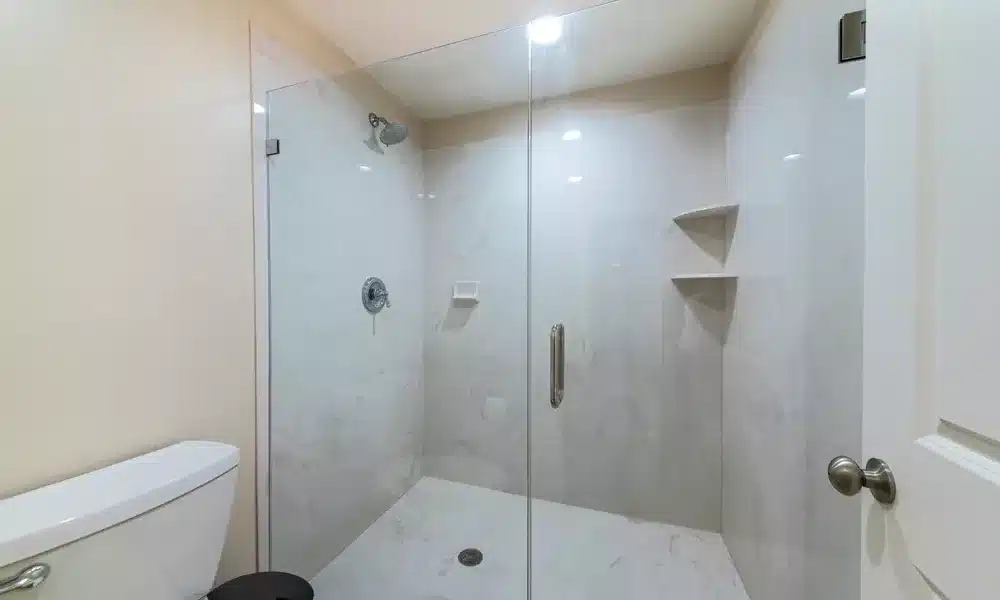 The Different Types of Shower Enclosures
If you are on the market for a new or replacement shower enclosure, here are four things that you need to look out for:
The shower enclosure should fit your space & bathroom size
It should match your preferences in terms of aesthetics
The enclosure must have all the functions you need
It should be cost-efficient & fit into your cost criteria
Shower Enclosures Come In Different Forms
Shower enclosures come in three shapes: quadrant, square and rectangle. Shower doors may be left-handed or right-handed. While most shower enclosures have a tray at the bottom, there are styles that make use of floor tiles. Although a shower enclosure is defined as one or more panels enclosing a shower area, some models do not have doors.
When shopping for a shower enclosure, step into the shower area and stand with your back to the corner. Make a visual picture in your head of where your bathroom windows and doors are located. Imagine where other obstructions such as the toilet and lavatory are positioned. If the door is going to open on your left side, then you need a left-handed shower enclosure. If it opens on your right, go for a right-handed shower enclosure.
You must also decide what type of glass you want for your shower enclosure. Popular choices include tempered glass, laminated glass, and coated glass. They come in a variety of designs such as clear glass, frosted glass, rain glass, cast glass, and coloured glass. Standard glass thicknesses are 4mm, 5mm, 6mm, and 8mm.
Types of Shower Enclosure
There are plenty of shower enclosure designs and configurations to choose from. Your decision will depend on the size and design of your bathroom as well as your style preference.
Quadrant
The quadrant shower enclosure is designed to fit right into the corner of your bathroom or en suite. Its curved frontage is ideal for tight spaces and offers a cool, modern look.
If your bathroom has limited space, then a quadrant shower enclosure is a great choice. The sliding shower doors provide you with more room to customize. Quadrants are the most popular choice for average-size homes.
Square
If space permits, square shower enclosures offer a stylish and modern look. Because the shape is a perfect square with no curves, you have more options when it comes to doors and frames.
Rectangle
If space is not an issue, go big! Rectangle shower enclosures are ideal for those who demand plenty of freedom in the bath.
Framed
Framed enclosures are traditional and economical, and they sometimes sacrifice aesthetics for functionality. Instead of brass or bronze frames, why not try a chrome finish for a sleek look.
Frameless
Frameless shower enclosures are a staple in contemporary bathrooms. The minimalist look allows light to pass through for a spacious and airy feel.
The shower door is made of a single glass panel that pivots out into the room. The glass is easy to clean and maintain – even more so if it has a baked finish that repels soap scum and water spots.
Tile and glass
Dare to be different? Don't be afraid to mix materials for your shower enclosure. Instead of a full glass enclosure, why not combine dark-coloured wall tiles with rippled glass windows? This makes the shower feel bigger and allows plenty of light.
Hinged
Hinged shower doors are minimally styled for an open and airy feel. They are similar to pivot doors except the door is held by hinged joints instead of pivoting pins. This provides a much wider entrance space for those with accessibility needs. A chrome handle bar completes the ultra-modern designer look.
Sliding
If your bath space does not have room for a swing door, a sliding enclosure is your best choice. Sliding doors are customizable to any shower design, with plenty of space for bathroom fixtures.
Glass block
You can ditch the shower door altogether and opt for a glass block enclosure. In this design, glass blocks surround the shower halfway with the other half left open. Moreover, glass blocks have strong lines and give your bathroom an elegant look. Plus, the options are virtually limitless; choose your own block style, thickness, texture or colour.
Textured glass
Frosted glass is a favourite option for those who value privacy. However, textured glass is now becoming a popular alternative with its zen-like appeal. Water that's dripping down the glass enhances those textured lines, creating a spa environment. Textured glass also makes the shower look bigger.
Tub enclosure
In homes where the bathroom is really small, a common solution is to combine the tub and the shower. The tempered hinged glass keeps water inside while allowing you to reach the fixtures.
Dual entrance
Modern couples love the his-and-her look of dual entrance shower enclosures. If you have the space, then go for it! The open sides of the enclosure also give the room an open feel – perfect for tall and narrow baths.
Wet rooms
Wet rooms are a popular choice for contemporary homes with spacious bathrooms. However, these cubicles do not have any enclosure at all. The open shower with a tiled wall that matches the floor gives the bathroom a nice harmonious look. Since there is no bottom tray, wet rooms are great for those with mobility problems.
Walk-in showers
Walk-in showers are a great alternative for baths that lack space for a wet room. The bottom has a tray similar to conventional shower enclosures but opens up more space.
Shower Enclosure Specialists
We pride ourselves on being a family-run, independent company specialising in providing bathroom solutions for those with limited mobility. We cater to all ages and levels of disability.
The Age Care Bathrooms team have been serving the mobility and disability communities for over 20 years. During this time we have provided all our delighted customers with fully tailored mobility bathroom solutions to fit their needs and budgets.
Contact us with your enquiries today.