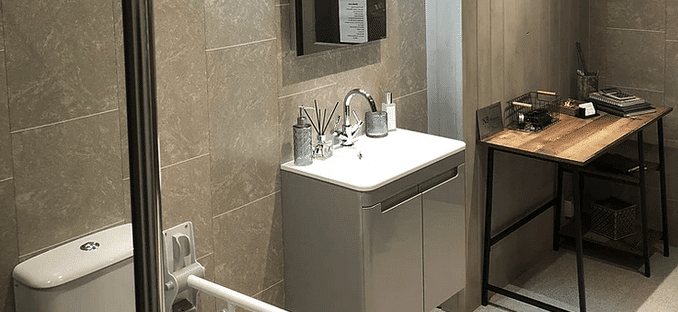 The new Age Care Bathrooms showroom is now open! 
Our showroom is situated within Granby arcade in the beautiful peak district town of Bakewell. The showroom allows us to demonstrate everything that makes for a perfect easy access, mobility friendly, shower room.
Our display demonstrates the specialist safety flooring, customers love the latest anti slip technology! (No tiles to maintain) just amazing 100% water proof easy clean wall boards. All our taps have very easy to use levers, a comfort height toilet, wall hung furniture and the most amazing walk in shower. With safety in mind, all our showers are thermostatically controlled making it safe for all the family to use. "WOW its stunning", is what everyone says. This just goes to show that a mobility bathroom doesn't have to look like anything you would find in a care home or hospital. But it does give you total peace of mind and all the support needed offered by shower seats and safety grab rails.
We have had an amazing response from the huge amounts of people that visit the peak district on a daily basis. Thank you for all your kind words….. Next time you visit the Peak District, why not drop by, pick up a famous Bakewell pudding and also call in to Age Care Bathrooms to pick up our latest brochure.
Not visiting anytime soon? Give us a call on our freephone – 0800 808 5897 and request your free brochure. You can also fill in your contact details using our contact page.