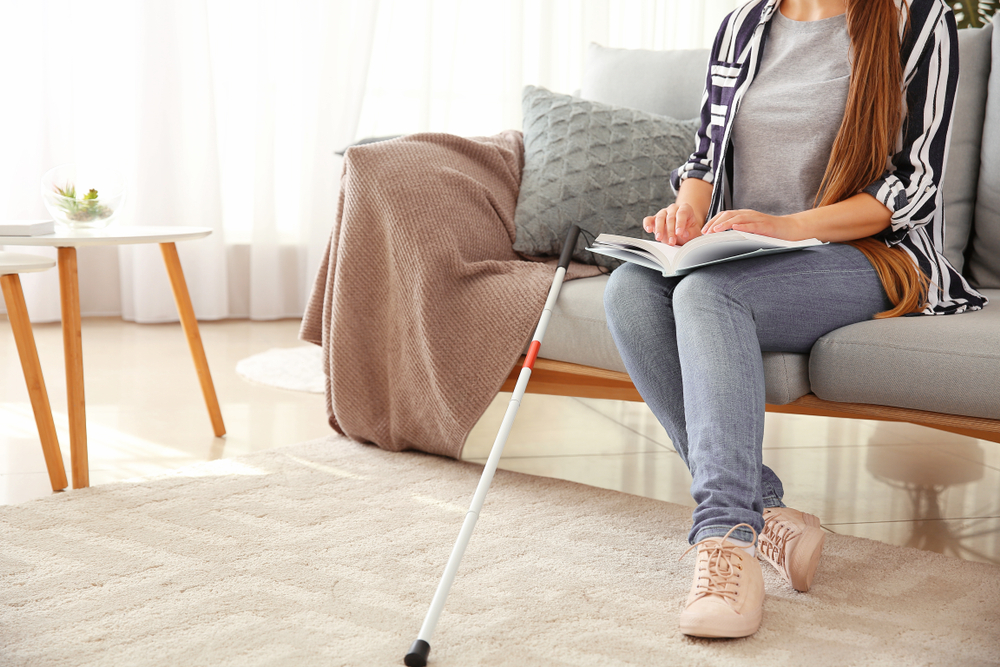 All you need to know about designing a safe and functional mobility bathroom for individuals living with visual impairments.
For individuals who are living with sight loss, many of the day to day activities that others take for granted can feel overwhelming or out of reach. Small things like navigating stairs, cooking, or reading signs can become sources of intense frustration, while larger tasks such as driving can feel downright hopeless. Few places in the home can feel more isolating than the bathroom, and as many of us spend vast amounts of time in the bathroom every day, it is critical that visually impaired people have safe access to one of the most important rooms in the home.
While there are several factors to consider when designing a mobility bathroom to support someone with sight loss, there are five essential tips that will help you create a beautiful, safe, and accessible space.
Contrasting Colours (LRV): Contrasting colours is the single most important design component to every mobility bathroom designed with the visually impaired in mind. From contrasting grab rails, shower curtains, wall cladding and toilet seats to delineated pathways created with contrasting floorings, distinct visual barriers are a crucial accessibility feature in any mobility bathroom.
You may have heard about light reflectance values (LRV's) already, but if not, you'll have certainly noticed it in hospitals and other public buildings. Things to keep in mind:
Use columns that are protected with visually contrasting materials.
Grab rails should be a sufficient contrast colour to the wall it is fixed on.
Don't forget the non-slip flooring that is always a very different colour. There is a Dementia Design Accredited Product flooring guide we use in our mobility bathrooms at the bottom for better understanding.
What are Light Reflectance Values?
LRV is a universal value for contrast, which measures the proportion of useful light reflected by a coloured object. It represents a relative light and darkness value rather than an actual colour. Therefore, different colours could have the same LRV.
LRV is measured on a scale of 0 to 100, 0 being absorbing black and 100 being reflecting white (in reality you never find these perfect objects – a bright white would typically have a result of an LRV of 85). A minimum of 30 points LRV difference is advised for adjacent surfaces (see pic below as an example of contrasting LRV colours).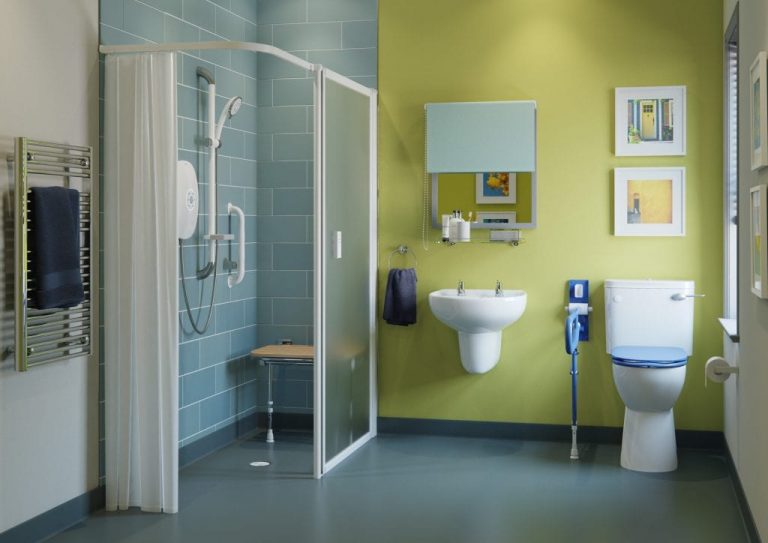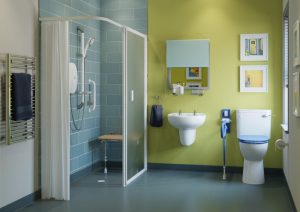 Level Shower Trays/Level access showers
Choosing a shower style that has absolutely no step is the best option, also known as a wetroom. A shower tray with a lip can lead to stubbed toes and painful falls for the . With proper draining and design, many shower options are level with the floor and thus reduce the chance of injury. (It should also be stated that high-contrast frames and moulding will aid in reducing potential hazards.)
Voice Command Features
Huge advances been made in voice command technology over the last ten years, and the bathroom is no exception. It offers an incredibly useful tool when designing a mobility bathroom for individuals living with sight loss. Voice command technology can reduce accidents, burns, and other frustrations when bathing, showering or using the toilet.
Recessed Storage
Storage that is jutted out and impeding on walking spaces can be extremely hazardous for the visually impaired. By including recessed closets and shelves in the mobility bathroom design, those with sight loss can enjoy ample storage while maintaining a safe space.
Motion Sensor
You can reduce the frustration of trying to search for the toilet handle by installing a simple motion sensor. While not a safety feature, the convenience and comfort of an automatic flushing toilet can make a big difference in providing a supportive and functional space for those with sight loss.
Creating a safe, functional, and welcoming mobility bathroom for individuals living with visual impairments takes a little planning and some intentional design. However, the results are empowering and liberating – something everyone deserves in their lives.
If you would like any more information or have any questions on Visually impaired designed Age Care Bathrooms, then feel free to contact us on our freephone 0800 999 8994.