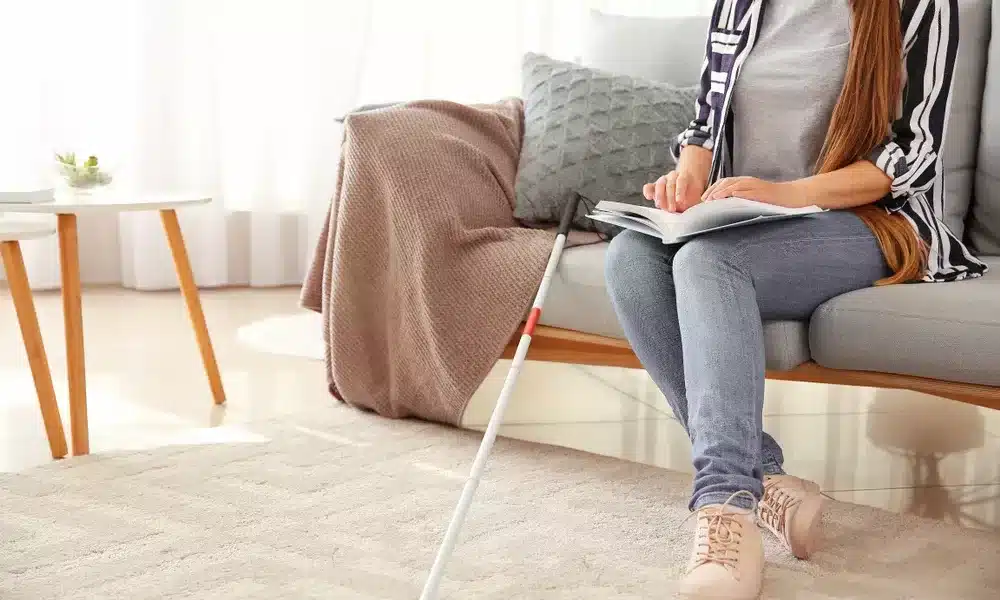 The Top 5 Home Adaptations for the Visually Impaired
Updated November 2023
Many everyday activities might be challenging or even dangerous for someone visually impaired. There are many ways to make a home safer for individuals with sight loss and important adjustments that can help if you are losing your vision or are visually impaired. To maintain independence and safety, certain home adaptations for visually impaired people may be eligible for a disabled facilities grant (DFG).
Simple home adaptations for visually impaired individuals include contrasting colours on the walls in different rooms and using raised stickers on plugs for appliances. This post explores the top five home adaptations for visually impaired people that can help to make daily tasks, such as navigating stairs, cooking, or taking a shower, easier and safer. 
1. Contrasting Colours with Light Reflectance Values (LRVs)
Painting each room in the house with contrasting colours is one of the lowest-cost home adaptations for the visually impaired. This trick can also be used for handrails on the stairs and mobility aids, such as grab rails, to make them easier to see.
Using contrasting colours is also the single most important design component of every mobility bathroom design for the visually impaired. Contrasting grab rails, shower curtains, wall cladding, and toilet seats with contrasting non-slip coloured flooring creates distinct visual barriers that are crucial for people with sight loss.
You may have heard about light reflectance values (LRVs) already, but if not, you'll have certainly noticed the use of colours with LRVs in hospitals and other public buildings. LRV is a universal value for contrast, which measures the proportion of useful light reflected by a coloured object. It represents a relative light and darkness value rather than an actual colour. Therefore, different colours can have the same LRV.
LRV is measured on a scale of 0 to 100, with 0 being absorbing black that does not reflect light and 100 being reflecting white (in reality, you never find these perfect objects — a bright white would typically have an LRV of 85). A minimum of 30 points' LRV difference is advised for adjacent surfaces or to divide areas of a room. The photo below shows how contrasting LRV colours have been used to define the shower area and the floor.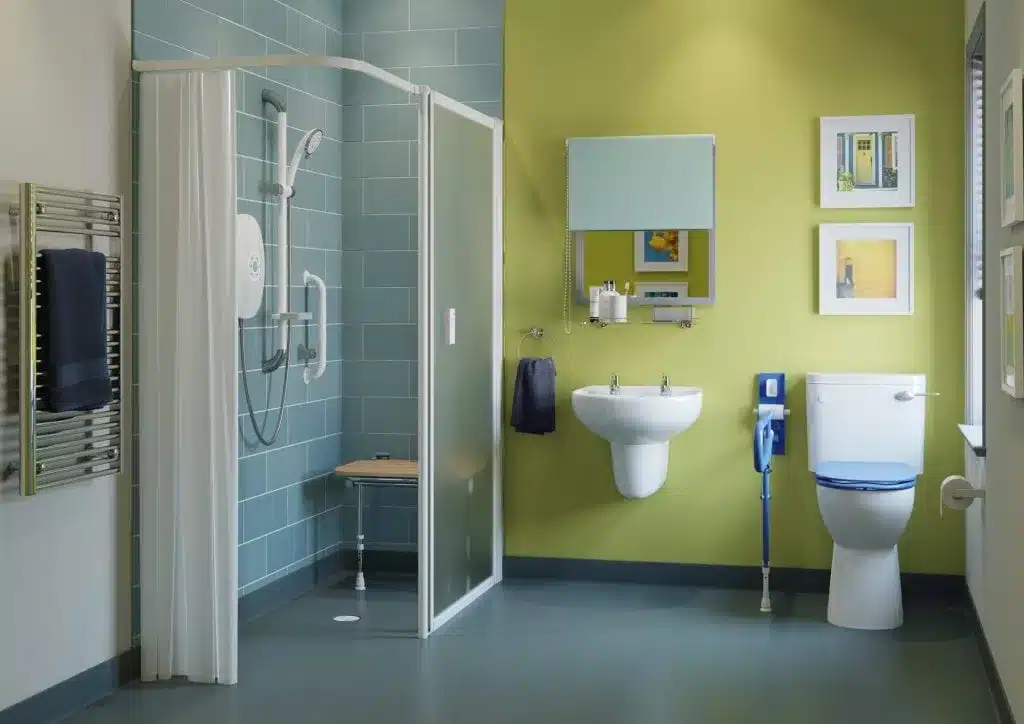 Things to keep in mind:
Grab rails should be a contrasting colour and LRV to the wall they are fixed on.

Non-slip flooring should always be a strong contrasting colour with a high LRV in comparison to the walls. 

Doors should be contrasting colours with contrasting colour door handles

Towels in a contrasting colour will be easier to see.
The Dementia Design Accredited Product flooring guide below is helpful to refer to for a better understanding of LRVs.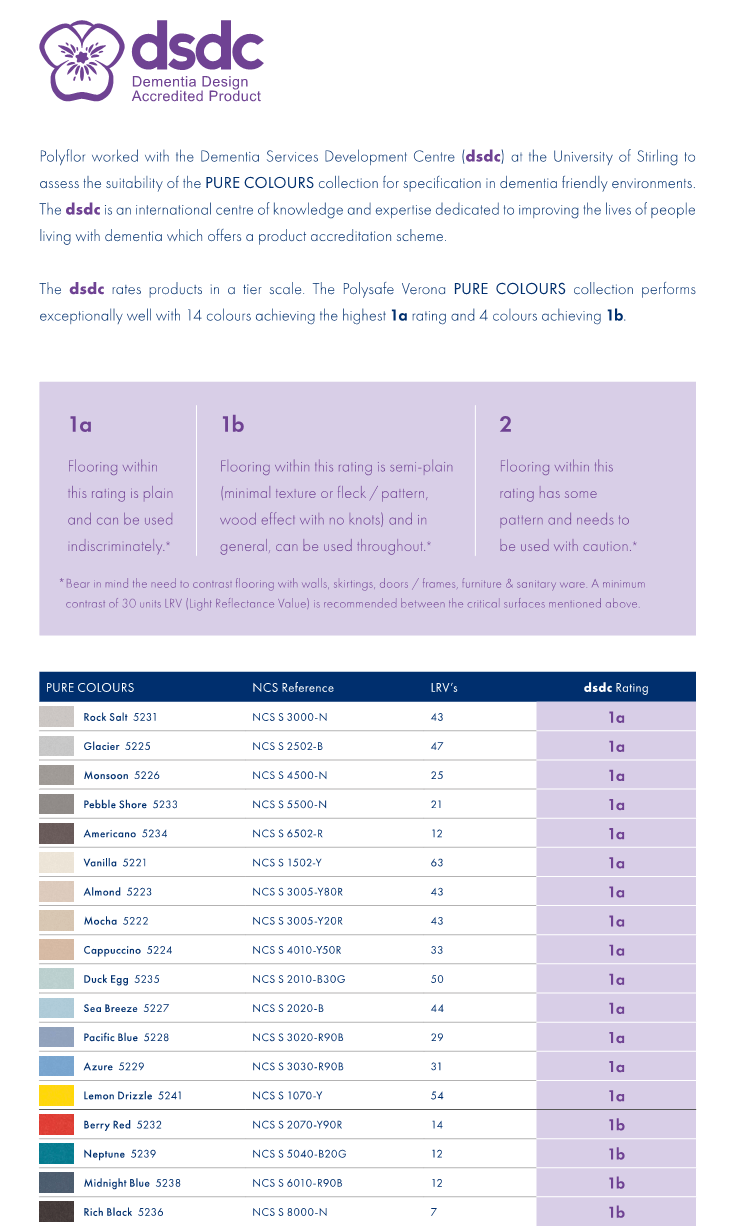 2. Non-Slip Flooring
Non-slip flooring is a vital home adaptation for visually impaired people. This can be carpets, non-slip vinyl flooring or non-slip tiles. Non-slip vinyl flooring is the most popular choice for disabled wet rooms and is widely considered the best waterproof, non-slip flooring. Laminate and wooden floors are best avoided as they have the least non-slip properties.
3. Voice Control Smart Devices
While not technically a home adaptation for the visually impaired, voice-control smart devices are an incredibly useful tool. They can assist with many aspects of daily life in all rooms, including a mobility bathroom, for individuals with sight loss. 
Prominent stand-alone voice control smart devices include Apple HomePod, Amazon Echo, and Google Home. With these devices, you may control various tasks with voice commands. 
Home adaptations for the visually impaired with voice-activated features could include:
Switching lights on and off 

Turning taps on and off

Verifying if a product is powered on, such as determining if the oven is on or off

Setting reminders

Adjusting the thermostat

Cameras for surveillance

Locking and unlocking doors.
4. Recessed Storage and Built-in Furniture
Minimising furniture in a room and creating a fake wall is an effective way to create recessed storage or shelves. Built-in furniture is no longer limited to the bedroom. Built-in furniture in the living room can accommodate the TV and other electrical equipment and keep wires safely off the floor.  
Creating spaces that are not impeded by furniture jutting out is a home improvement for visually impaired people that can make it a lot easier to get around and prevent falls. Including a fake wall with recessed cupboards and shelves in a mobility bathroom design is highly recommended to provide ample storage while maintaining a safe space.
5. Self-Closing Hinges and Self-Closing Cupboards
Adding self-closing cabinet hinges to cupboards or having self-closing cupboards is a home adaptation for visually impaired people that will prevent cupboard doors from being left open accidentally. When cupboard doors are left open, this can cause nasty injuries, especially in the kitchen and bathroom. Although this is a hazard for people living with sight loss, they are generally a good idea for anyone. Who hasn't bumped their head into an open wall cupboard door at some time? 
Mobility Bathrooms for the Visually Impaired
Creating a safe, functional, and welcoming mobility bathroom for individuals with visual impairments takes some planning and some intentional design. However, the results are empowering and liberating — something everyone deserves.
Choosing a level-access shower that doesn't have a shower tray with a step is the best option. Alternatively, a wet room can reduce the risk of stubbed toes, painful falls, and serious injuries.
Age Care Bathrooms is one of the leading providers of mobility wet rooms in the UK. We have been designing and constructing mobility bathrooms for over 30 years. 
If you would like more information or have any questions about level-access showers or wetroom designs for the visually impaired, please contact our friendly UK team to arrange a free consultation and home survey. 
View Your Perfect Mobility Wet Room With A No-Commitment Custom 3D Design.