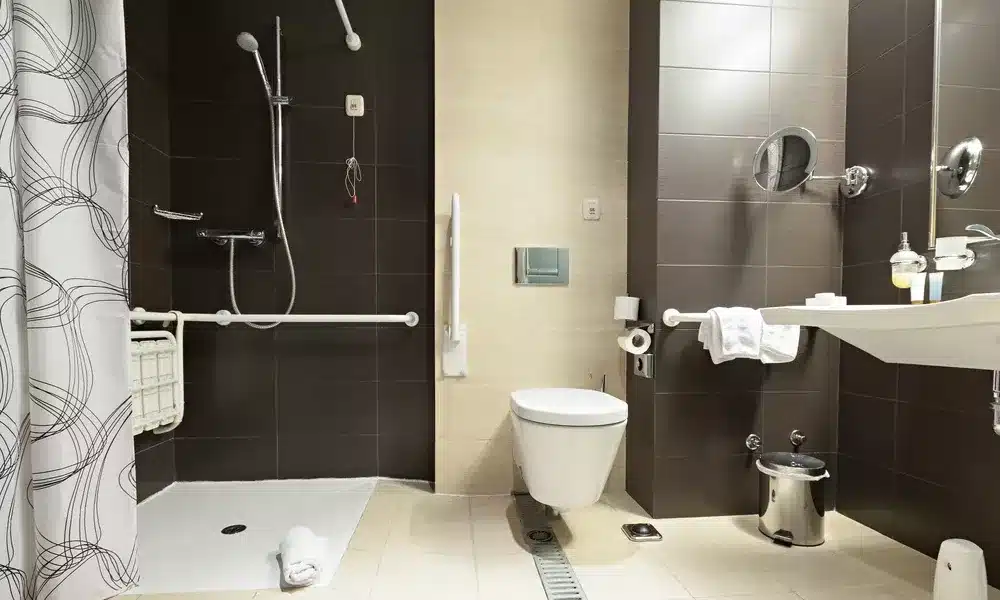 Wet Rooms for Elderly Safety
When you think mobility wet rooms, think bathrooms without shower trays and bathtubs, that have their drainage on the floor, floor and wall tanking, and are totally leak-proof. Also, think of assistance poles, grab rails, safety glass, easy to use taps, accessibility, anti-slip flooring, ventilation, and easy-clean walls.
Mobility wet rooms are bathrooms for elderly people that are totally water-proof and leak-proof, with shower spaces that are the same level as the rest of the bathroom's floor. The tiles used are non-slip tiles to avoid mishaps and enhance easy movement around mobility wet rooms.
The floors and walls of mobility wet rooms are well tanked with some sort of water-proof overlay, to avoid damages through water seepage. As the name implies, they are actually "wet rooms", if toilets, sinks, or cabinets are to be installed inside there as well, they have to be floating units that are mounted on the wall. This ensures that there is no room for water to be collected.
Benefits of Mobility Wet Rooms?
Accessibility
Mobility wet rooms are designed to be very accessible, as they possess wide entrances with no barriers to the bathrooms and shower areas. This entails that elderly people with mobility aids like wheelchairs, rollators, and walking frames can easily have access to the bathrooms. This further gives a sense of independence.
Safe and Stylish
Because wet rooms are practical bathroom solutions for elderly people, they provide safety, as there is no room for hazards. The titles used are anti-slip tiles which are well levelled, meaning that safe movement in the bathroom is enhanced. Also, wet rooms generally are becoming a popular design choice in modern home styling. So, with mobility wet rooms, safety and style (tailored to individual needs) are guaranteed in one go.
Low Maintenance
Mobility wet rooms are low maintenance, as they are easy to clean and keep clean. As they are naturally wet with easy to clean walls, the simple application of normal bathroom cleaners to keep mildew and moulds away is all that is needed.
So, How Safe are Mobility Wet Rooms?
Mobility wet rooms are a very safe bathroom option for elderly people, especially when there is difficulty in mobility. They are a fantastic choice to enhance bathroom safety, as they do not enable tripping hazards.
With mobility wet rooms, there is no need to step in and out of a shower tray or bathtub, hence the probability of mishaps occurring is reduced. The designs of mobility wet rooms are similar to regular bathrooms. The difference is that when designing mobility wet rooms, accessibility for the elderly and even the disabled is the major factor considered.
Hence, mobility wet rooms are fast becoming a popular choice for the elderly. There is the availability of both ground and upper-level installations, both of which are an excellent way to make the most of bathroom spaces.
At Age Care Bathrooms, we have over 20 years of experience in providing excellent quality mobility wet rooms, designed from scratch and tailored to your needs.
For a free consultation or begin the stages of installing a wet room in your home, call 0800 999 8994 or click here.