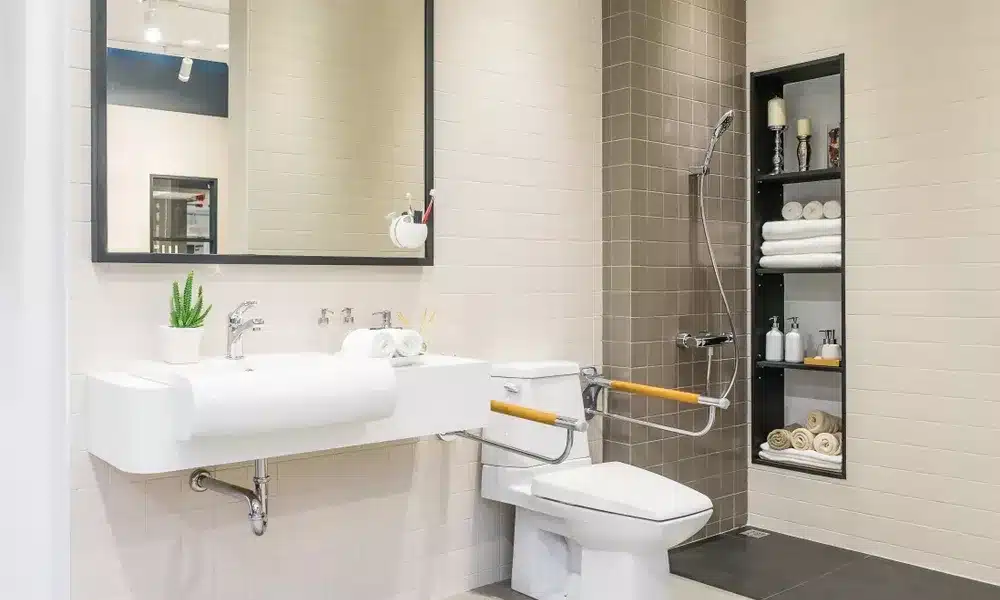 Mobility Wet Room Cost
Wet rooms are becoming ever popular as the population ages and technological developments to facilitate these changes become equally as common. The price of a wet room is dependent on its specificities such as its size and additional equipment that will be included in it and in turn they can vary significantly. The average cost of a wet room is in the region of £3000 – £10,000. However, real costs can be higher or lower, depending on the details of your project. All told, a minimum of £2000 can be expected in order to produce a decent quality and well-equipped wet room.
Why Will You Benefit From Having a Wet Room?
Wet rooms can aid not only those who require them for medical reasons, but also those who seek a more comfortable washing experience. Wet rooms are greatly beneficial to all who have access to them, due to the fact that they increase ease of use as well as making bathroom cleaning significantly easier. A completely specialised wet room can be cleaned in its entirety somewhat carelessly, with no worry required about getting hydro-sensitive areas, that should usually be kept dry, wet. Furthermore, those who have had a wet room installed for medical reasons will able to self-clean easily via the equipment included in most wet rooms, such as:
A Walk-in Shower
A Shower Seat
Assistance Poles
Anti-slip Flooring
Grab rails
Ventilation
This is only a short list of possible features of a mobility wet room. For a more expansive list, visit Age Care Bathrooms, where you can also organise a free consultation, in order to begin the process of having your own wetroom installed.
Who Are Age Care Bathrooms?
Age Care are a family run, independent business that specialise in providing bathroom solutions to those who are in need of one, whether that be for medical reasons, or merely for comfort. The team at Age Care Bathrooms have worked for over 20 years, serving tirelessly both the disability and mobility communities, in order to provide fully equipped, mobility wet rooms. The entirety of the Age Care staff are fully trained and qualified, in order to facilitate all areas of work, covering both the plumbing and electrics of a project, not to mention its actual construction and installation.
What Are the Benefits of Using Age Care Bathrooms for your Mobility Wet Room?
Age Care work completely independently of any other company and in turn, have multiple perks such as:
Time – The lack of third party influence means there is no waiting around for another company. In turn, the job can be completed all at once, without having to wait for external companies to do their part. This greatly reduces the total time it takes for a project to be completed. At optimal rate, it can take as little as 3 days from start to finish for a wet room to be installed.
Cost – With every member of the Age Care team able to work on every aspect of a project, no jobs have to be contracted out to other companies, at a higher price than it all being completed by Age Care. With Age Care, costs are kept down to a minimum.
Quality – Age Care ensures to select the highest quality products that still fit your budget. All of their mobility bathroom products are sourced from the best suppliers, ensuring you receive the highest quality products at the best price.
Waste Removal – Age Care ensures to remove all waste, post-installation, and in turn allow you to begin use of your new mobility wet room immediately. No waiting for the removal of anything left after the construction.
For a free consultation or begin the stages of installing a wet room in your home, call 0800 999 8994 or click here.