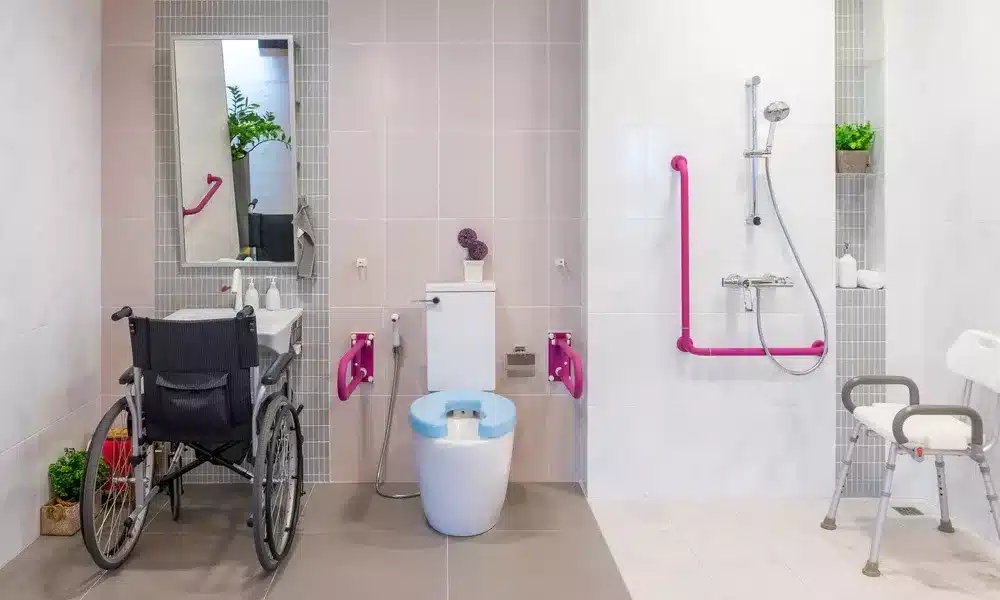 7 Reasons To Consider A Wet Room
Wetrooms are a fantastic way to add functionality within your home, along with new technology and aesthetics.  Not only do they create a sleek modern look, but they also reduce cleaning and maintenance and are very appealing to potential buyers should you ever choose to sell your home.
This article by Age Care will provide some insight into the essentials for wet rooms, as well as how certain aspects can promote independence for users. For further inquiries about wet room showers, be sure to contact our highly knowledgable team. Our team will be more than happy to assist you with any questions.
What is a Wetroom?
A Wetroom is a bathroom solution that quite simply is exactly what the term suggests – a room that can get wet.  It is a room with a tiled floor that has been waterproofed, or 'tanked' as it is known in the industry, instead of having a conventional shower tray. 
If the entire room has been tanked there is no need for any glass screens or shower doors, and the room itself becomes the shower enclosure, with a shower drain inset into a gently sloped floor. However, a growing trend is to add a shower panel to prevent splashing right across the wetroom.
Simply put, a wetroom is fundamentally a sealed bathroom with tiled features providing a contemporary convenience bathroom solution in a modern style design.
Why Choose a Wetroom?
There are many advantages to having a wetroom in your home. From a purely aesthetic point-of-view, a wetroom brings a wow-factor to your bathroom, providing a naturally stylish and modern look. There's something liberating about showering in a wet room, not confined by a tiny enclosure or having to worry about splashing water on the floor.
What Are The Advantages of a Wetroom?
Space-Saving 
Wetrooms provide a great space-saving solution, particularly in small bathrooms and help create a functional, practical and usable space without requiring bulky fittings and fixtures.
Easy to Clean
Given the absence of fittings and fixtures, wetrooms are incredibly easy to clean.  Shower enclosures, with all their framework and runners, are notorious for gathering dirt and grime, so when it comes to a wetroom, it is refreshing to have nothing to clean other than a single piece of frameless glass or tiled floors and walls.  If you consider installing a wall-hung toilet and floating basin you would have a bathroom floor completely free from obstacles and clutter
Increased Safety Factor 
For homeowners requiring easy-access, wetrooms are ideal. With the lack of shower tray and non-slip flooring, wetrooms are perfect for wheelchair users as well as those with disabilities and young children.
Aesthetic Value 
As well as being practical, wet rooms have an undeniable wow-factor, providing an incredibly stylish and sophisticated look and feel to any bathroom. The wall to ceiling tiling, minimalist fixtures and open design oozes simplicity and contemporary elegance.
Increased Durability 
Due to their waterproof nature, wetrooms are extremely resistant to moisture damage and leaks. This results in less maintenance and will also keep your bathroom looking newer for longer. In the long run, this has the potential to save you both time and money.
Value
Wetrooms can add to both the financial and day-to-day value to your home. As they are easier to clean and maintain, you'll have more time to manage your other daily duties. Using a wetroom as a second bathroom in your home can add additional value to the property if and when you come to sell.
Ease of Installation 
A wetroom can be a slightly more complex installation process than a traditional, but with a little forward planning room is not as complicated as many people might presume. We always recommend our customers select an experienced professional installer to ensure peace of mind and a fantastic end result.
Wet Room Considerations
Drainage & Tanking
It is important that your wetroom is waterproof and has an efficient draining system in place. If not, you risk substantial maintenance and repair costs due to any leakages or water damage. The traditional way to waterproof a wetroom is to install a sealed tanking membrane underneath the floor and behind the walls. 
There are lots of tanking options to choose from, varying from traditional rolls of bitumen tanking to paint-on waterproofing kits.  You will also need to incorporate a slight gradient into the floor in order to channel any water that escapes the shower or sink area.
Ventilation
With wetrooms, as with any bathroom, it is important to keep ensure adequate ventilation is installed in order to prevent mould growth and provide a healthy air flow circulation. This can be achieved by opening windows or installing an extractor fan to remove moisture.
Floor Tiles
As a wetroom will be subject to water coverage, it's important to choose slip-resistant tiles in order to prevent any accidents and injuries. Natural stone or mosaic style designs are ideal while high gloss tiles with a polished sheen should be avoided at all costs.
Underfloor Heating 
Although not essential, underfloor heating is definitely something worth considering as it isn't a lot of extra work to install when you are already waterproofing and tiling your wetroom floor.  Underfloor heating systems are easily installed and provide a lovely warmth around your feet whilst also having the extra bonus of drying your bathroom much faster, limiting the potential for mould or unnecessary cleaning.
A Summary of Wet Rooms
Wetrooms are a great bathroom solution providing a wealth of advantages and creating both style and functionality to your home.  With a sleek modern look, they not only look great but also reduce cleaning and maintenance and are very appealing to potential buyers should you choose to sell your home.  Whilst a wetroom may be slightly more expensive than your traditional bathroom, the initial cost is well worth the investment in the long-term.
To find out more about Wet Rooms and whether or not you could make use of one, contact our team at Agecare.