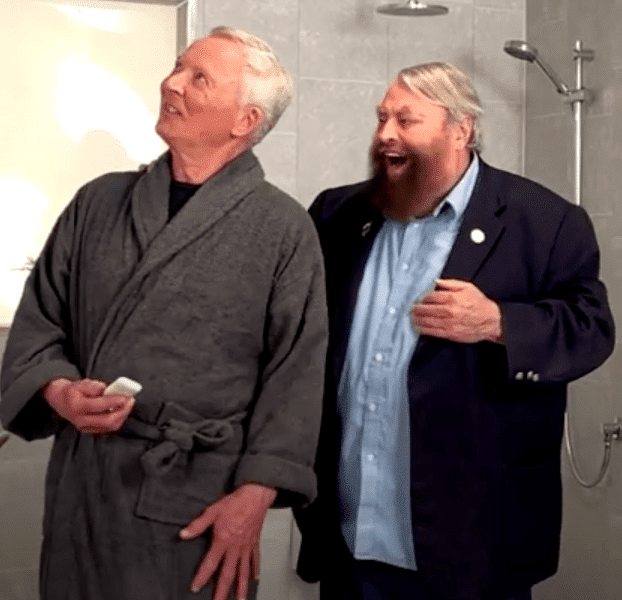 Introducing Our Debut TV Advert with the Iconic Brian Blessed
We're thrilled to announce that Age Care Bathrooms will be launching its inaugural television advertisement, which will feature the renowned actor Brian Blessed!
The commercial portrays the experience of Gordon, a homeowner who faced difficulties in accessing his bathtub, until Brian recommended an accessible and stylish upgrade offered by Age Care Bathrooms.
We take pride in advocating the advantages of making an existing bathroom accessible, which enables individuals to retire in the comfort of their own homes instead of having to move into assisted living facilities.
View our behind the scenes video here! 
Our Mission
Sam, the Director of Age Care Bathrooms, is excited to announce our expanded marketing efforts aimed at raising brand awareness. 
Our company's mission is centred around empowering the elderly to maintain their independence for as long as possible. This advertising campaign perfectly encapsulates our sincere and transparent values that we strive to uphold every day.
We are confident that this campaign will reach a new audience of individuals searching for a trustworthy and dependable accessible bathroom company. We are committed to being that company, and we are excited to introduce ourselves to this fresh audience.
Sam's Experience
Age Care Bathrooms was founded in 2018 by Sam, who was inspired by his grandmother's condition to make a difference in the accessibility industry. 
During his experience, Sam observed several recurring problems in the mobility industry, including pushy salesmen, unsatisfactory workmanship, and a limited range of product options.
To address these issues, Age Care Bathrooms has taken a unique approach to their business operations. Unlike many other companies in the industry, they complete everything in-house, with no subcontractors involved. 
This ensures that the installation process is quick, efficient, and professional, and customers can trust that their accessible bathroom will be installed to the highest standards of quality.
Our Commitment 
Age Care Bathrooms is dedicated to delivering superior customer service and offering a diverse selection of premium products to our valued customers. 
Our unwavering commitment to excellence in both materials and installation sets us apart in the accessibility industry.
Our core values of empathy, trust, respect, endurance, and excellence are the foundation of everything we do. We strive to live these values each day and are fully devoted to ensuring that our customers receive the highest level of service and care possible.
At Age Care Bathrooms, we prioritise empathy, trust, and endurance. We recognize that every customer is unique and take the time to actively listen to their needs and concerns to provide the best possible solution. 
We believe in building strong, enduring relationships based on mutual trust and respect. Our team works tirelessly to ensure a seamless and stress-free installation process, with an unwavering commitment to delivering exceptional results and top-quality products.
Keep your eyes peeled for our debut TV ad! See our behind the scenes video and more information here!