NHS & Occupational Health Standard Installations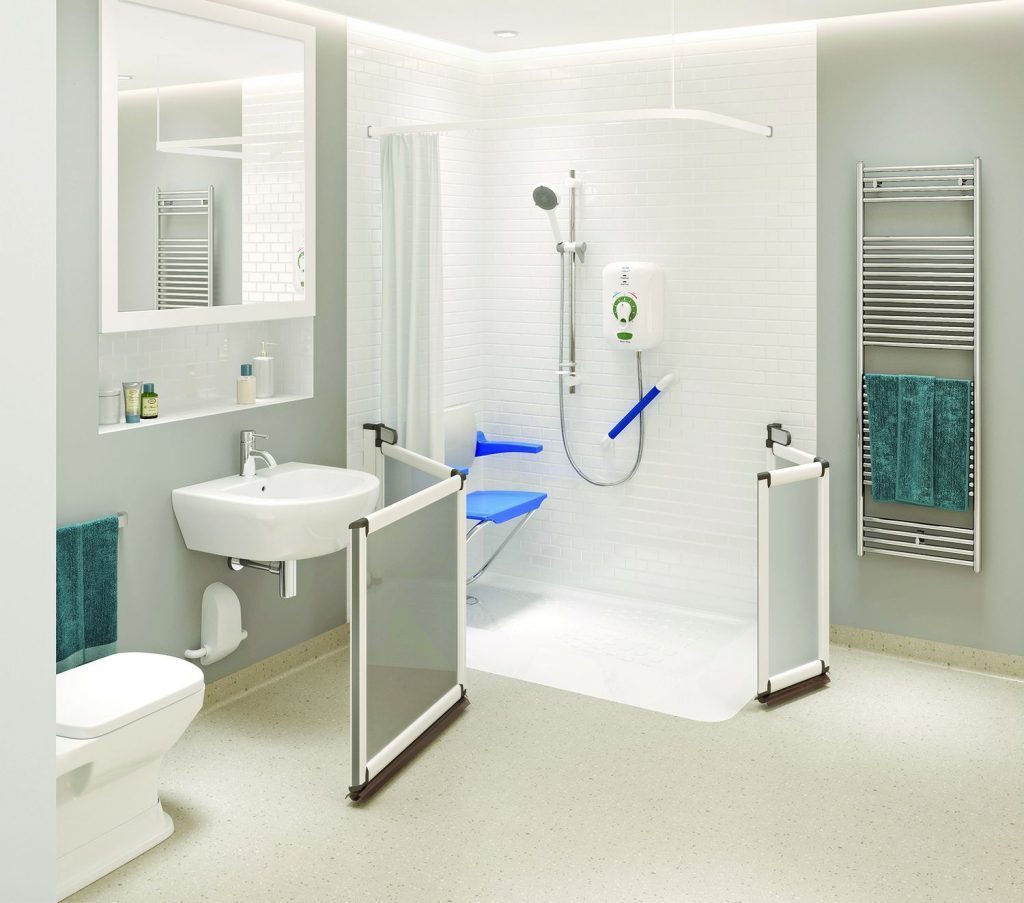 Is your current bathroom future proof? Does it meet your current needs or the needs of your loved ones? If you're looking for a disabled wet room, then get in contact with Age Care Bathrooms today. We tailor our bathrooms specifically to your mobility needs.
The Age Care Bathrooms team have over 20 years of experience in providing excellent quality wet rooms for those with disabilities and mobility issues. We provide you with the best possible service and price for our disabled wet room. All our staff are fully trained and qualified in all aspects of the job. This means our fantastic team get the job done in one go, with no need for subcontractors or third parties. Our staff are experts in bathroom installations, meaning they'll get the whole process done and dusted as quickly and as professionally as possible
We can make your dream bathroom accessible.
Speak to our team to learn more!
We are one of the first in our industry to offer an online virtual disabled wet room design service. Send us the dimensions of your current bathroom along with photos and we can show you how your new fully-accessible disabled wet room will look. 
After listening carefully to your preferences and requirements, we will assist you in choosing between the vast range of easy access showers and baths available on the market. We will then offer you a free, no-obligation quote including all fitting services. There are no hidden charges, our team carry out the installation and the removal of your old bathroom all included.
Get in touch today to start designing your new disabled wet room!
Disabled Wet Room Features
Our wet rooms are designed to be safe, accessible and easy to maintain, which makes them ideal for people with disabilities and those who need wheelchair access. As many as 80% of trips and falls at home occur in the bathroom so it is essential that safety features are included for your peace of mind. We understand that safety is a top priority. That's why with every disabled wet room we install, we offer:
Once finished, you can be confident that you have a beautiful new disabled wet room which you will be able to use comfortably for years to come.
Offering you peace of mind while bathing
Frequently asked questions
Who will oversee the installation of my disabled wet room?
Age Care Bathrooms are completely independent, meaning that our highly trained team will carry out ALL of the work from start to finish. Unlike some of our competitors, we do not contract out any stage of a mobility bathroom installation. We hold extremely high standards and we don't trust subcontractors to complete a job with the same attention to detail as we do. When it comes to disabled wet rooms, we are the experts so the full installation including plumbing, electrics, joinery, flooring and even waste removal, is handled by our team.
How long does it take to fit a disabled wet room?
As little as 3 days from start to finish. We strive to be efficient and we are able to do things quickly because we do not have to wait on external contractors such as plumbers or electricians, which can slow the process down. Since each disabled wet room that we fit is unique, the duration of the installation may differ depending on factors such as the size and style of your bathroom, as well as any individual features which you may have chosen to be included. Due to high demand there is typically a waiting time of a few weeks from your initial enquiry. The earlier you enquire, the sooner we can start fitting your disabled wet room!
How much does it cost to install a disabled wet room?
As each disabled wet room that we install is unique, we will provide you with a free, no obligation consultation and quote specific to your requirements. We can tailor the products to meet your budget, and our costs do not need to cover subcontractors so our quotes frequently beat those of our main competitors. Along with your quote we can provide a 3D virtual drawing of how your disabled wet room will look, so you can see exactly what you are getting for your money. For many, having a disabled wet room is a way to extend their years in their own home and is a small investment when compared to the costs of moving into a care home.
Is a disabled wet room suitable for wheelchair users?
Yes! Our disabled wet rooms are designed specifically with wheelchair users in mind. They offer completely unrestricted access to all areas of the bathroom including the shower area, allowing the user to enter and exit unassisted. With a disabled wet room, the walls and floor are completely waterproof, making the room easy to keep clean and maintain. All of the water is directed towards the draining point, which is known as gravity draining. Along with the waterproof floors and walls, this means that you don't need to worry about any leaking or getting any areas of the bathroom wet.
Do you need planning permission for a disabled wet room?
Planning permission isn't normally needed for a disabled wet room in an established home. However if you are looking to install a disabled wet room in a new build house you will have to apply for building regulations approval. If the latter applies to you, it's important to read up on guidelines following along with The Building Regulations Act 2010.
If you are making significant structural changes to your house in order to install a disabled wet room, such as an extention or additional drainage, you are required to consult a buildings regulation officer.
What are the benefits of a disabled wet room?
There are many benefits of installing a disabled wet room in your home. Accessibility for some people is key, in order to minimise the risk of slips or falls wet rooms reduce floor level obstacles such as shower ledges. Disabled wet rooms are also highly supportive, with assistance poles and grab rails as two of many additions we include, we ensure our customers experience an increased feeling of safety and security. 
For more benefits and advantages, click here for our 'Wet Rooms for the Disabled Guide'
Do I need a large bathroom to have a disabled wet room installed?
No - We'll work to your requirements which involves our team assessing the dimensions of your bathroom and advising on the best solution. We have fitted practical and stylish disabled wet rooms into some extremely small spaces before and we always strive to meet the needs of the individual. We love a challenge, so with careful planning and design, we are sure we will come up with a creative and flawless solution to make the best use of your space.
Will there be any mess or disruption to my home during the installation?
We take care to cause as little disruption as possible to your home. This means putting down dust sheets to protect your floor, cleaning up the mess and the old bathroom parts, as well as being considerate when moving around your home. There will be some noise and disruption during the installation, but we will do all we can to keep this to a minimum. We work quickly on site to get your disabled wet room installed in as little time as possible.
Are disabled wet rooms easy to maintain?
Yes. We understand that those with limited mobility need a disabled wet room that is not only easy to use, but easy to maintain as well. For instance we can install waterproof, maintenance-free walls and ceilings that will be resistant to damp and mould. All of our disabled wet rooms are designed with low maintenance in mind, for your convenience.
Will my care needs be sufficiently considered?
At Age Care Bathrooms we have over 20 years combined experience in designing and fitting disabled wet rooms for the elderly and disabled. We understand that each individual is unique and has their own specific care requirements. Your care needs are our number one priority, which is why we are always considerate with every customer and strive to come up with a solution that meets all of your requirements.
What are the size requirements for a wet room? Is my bathroom too small?
Accessible wet room dimensions are different to standard wet rooms, with building regulations stating the minimum as 2500mm x 2400mm. These are for a disabled wet room with a toilet, basin and shower. There are also recommended minimum requirements for shower trays, those being 1000mm x 1000mm. 
It is a possibility that your bathroom may not have the size requirements we need for installation, but there are other options available, such as our level access showers. For those with smaller bathrooms this may be worth looking into.  
If you are still unsure about measurements, don't hesitate to contact us with any questions or queries. We are more than happy to answer them.
Can I change the design aspects of a disabled wet room?
As mentioned in the information above, we listen carefully to your preferences and requirements when designing your wet room. With a wide range of choices on the market, we are confident you will find something to your liking. We are also happy to assist at any point in the design process. 
There is no obligation to carry through with the disabled wet room, even after choosing your design. We will provide you with a free quote based on all the information you have given us so far, but there is no pressure to complete the purchase.
My parents-in-law were not so keen on the idea of a wet room to begin with, but the result is amazing! It is practical for their needs whilst looking just like a normal very smart new shower room. Correspondence and communication with the company was excellent and the installation very easy and stress free. Thank you to the whole team!
Very professional, excellent service from this first class family firm. All on time, very clean and tidy work and all delivered in a very friendly and helpful way. Top rate equipment giving us a a first rate wet room. Highly recommended in every way.
Friendly family business did a fantastic job on our wet room . Paul the main fitter was really hard working , tidied up each night and lovely finish . Would highly recommend, great service and good quality products . Pleasure to deal with from start to finish .
Excellent Service from start to finish; from the initial inquiry Amanda produced a specification of works and 3 D visualisation of the bathroom proposals from the most rudimentary information. The visualisation helped my elderly parents appreciate the intention from the outset and provided the impetus for them to commit to the works being undertaken. Sam carried out the necessary site visit, site measurements, options appraisals, and materials specification with patience and due care and attention to detail, which reassured my aging parents that the end-product would meet with their approval. For my part, Sam answered all my technical queries about the installation and from that point onwards I felt confident the company was professionally competent. Programming and installation were "bang-on-time", even finishing quicker than anticipated. The installer/s worked around any limitations we imposed upon them to keep my parents COVID safe and the installation works, standard and finish were to an exceptional quality. The administration side of the business was equally as good as the design and installation side of the business. The price we agreed at the outset, was the price we paid, less any savings for omitted works. There were no hidden costs, communication/correspondence was fast and responsive, whilst being accurate and without ambiguity. My final consideration is this is a great company, worth supporting, and I would recommend them without hesitation.
A first class family Company. From my original contact with Amanda who considered the space and produced a design making the most of a small space. With an excellent installation carried out by Paul and Sam with little disruption The installation was completed in three days to a very high standard. More importantly my Mother loves it, which considering her reluctance for the necessary change following a fall was a minor miracle. Many Thanks for a job well done Paul R-M
What can I say. Simply effortless and the team did a superb job. We had a new wet room fitted for my mum who has been very unwell recently. The whole process from design…to choosing the fittings and the actual install were commendable. Nothing was too much trouble for Amanda ..Sam and their team. I would highly recommend them and I'm so happy that my mum has an amazing wet room to come home too. They were very patient and carried out the work efficiently whilst my mum was in hospital….working around the clock over the weekend. After looking at several other companies I am very happy I chose Agecare.
We are delighted with the new disabled shower room. It looks attractive, works well and is convenient for my mother to use. Sam had visited us (wearing appropriate PPE) and shown us sample products, while asking questions which showed that he really understood the problems suffered by disabled people. The shower room was delivered and installed efficiently and on time. Paul and Sam worked hard and were considerate of my Mum being in the flat at the same time. I happily recommend them.
Rosemary O'Boyle-Kelly
2020-09-10
I have never seen two people work so hard in my life and the result is stunning!
From our first contact with age-care bathrooms we have been very impressed with this company. My mother's needs were assessed and useful recommendations, for converting her existing bathroom to an accessible wet room, we're made on Sam's initial visit. Plan's were sent over and changes requested by my mother's carer were quickly incorporated. Paul arrived on the agreed date and carried out a faultless job, taking all waste away and leaving the house spotless. We would not hesitate in recommending this company.
Stephen Pierce
2020-08-26
This family firm is a great company to deal with. They are very helpful and friendly, nothing was too much trouble. Their standard of work from start to finish was very high.and we have no hesitation in strongly recommending their services.
We provide a complete service without the need for subcontractors
Our free, no obligation quotation includes all fitting services such as –