UK Specialists for Disabled Baths
Download our free disabled bath guide for advice on picking the right bath for your unique needs.
Discover the Benefits of Disabled Baths
The latest bathrooms frequently have disabled baths because of their modern appearance and ease of maintenance. If using a regular shower or bath is difficult, a disabled bath may be the best option for you.
Optional rising chair if you need extra support when getting in and out
Bathing is comfortable and therapeutic
Non-slip surfaces prevent slips and falls
Easy-to-use taps and temperature control
Low entry doors
make it easy to get in and out 
Spa and chromotherapy options
A choice of additional spa and chromotherapy are features available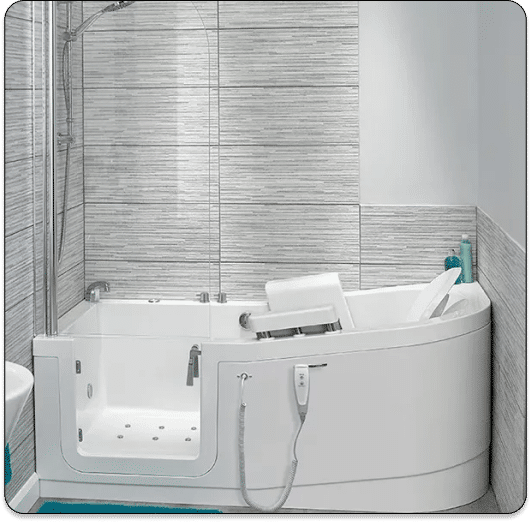 What Are Your Options for a Disabled Bath?
Solve bathing issues by transforming your bathroom. With a walk-in bath, disabled individuals, older people, and anyone with restricted mobility can experience independence and relaxation. Every customer deserves to be treated like family, and that's the guiding philosophy we uphold at Age Care Bathrooms.
We offer a variety of disabled baths for you to choose from.
You can browse our most popular choices below or download our free disabled bath guide to see the full range of baths we can install for you.
Not sure if a disabled bath is the right choice for you? Contact our bath installation experts for a friendly, 100% no-obligation chat about your requirements.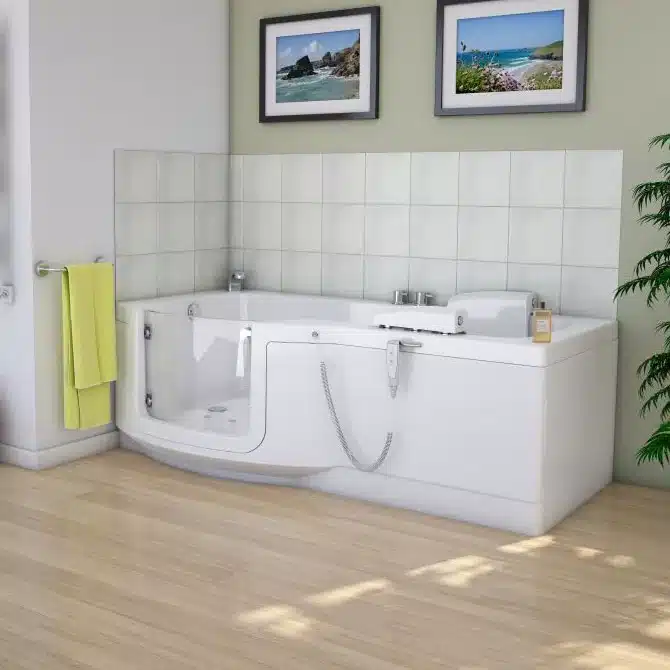 The perfect combination of spacious bathing and wider showering area. It encompasses enhanced minimal looks and assistive features for ultimate relaxation.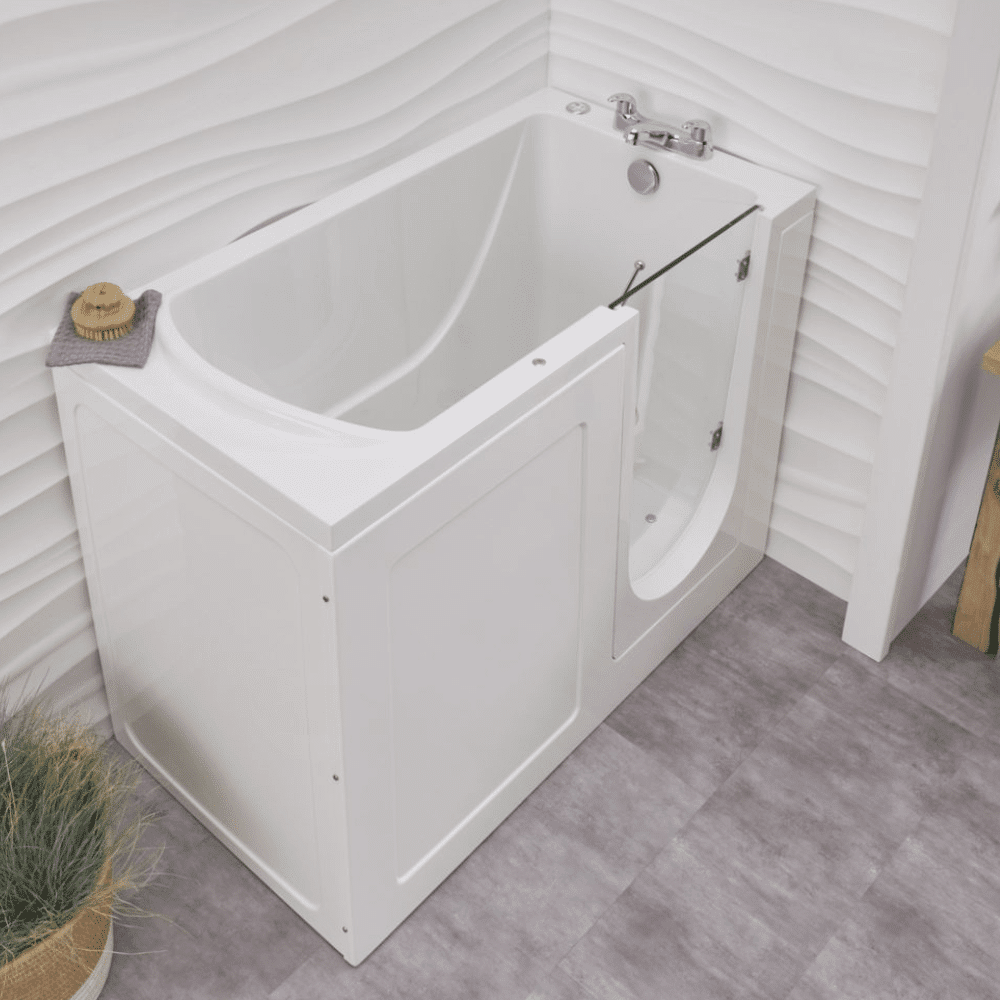 This model is all about comfort and convenience. It's got low level entry, space to move inside and a superb position. The lines are simple and elegant along with the inward opening door.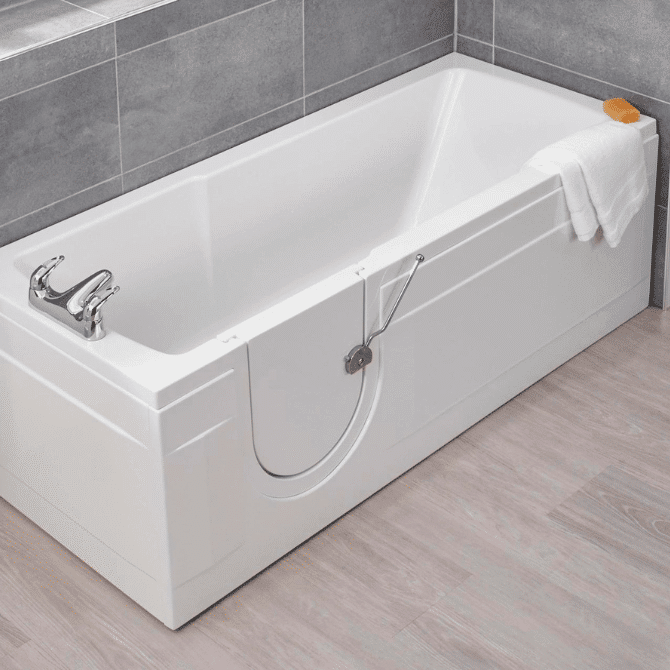 With a simple but elegant shape and the added security of slip resistant surfaces, this bath is design for those who can sit and stand unaided.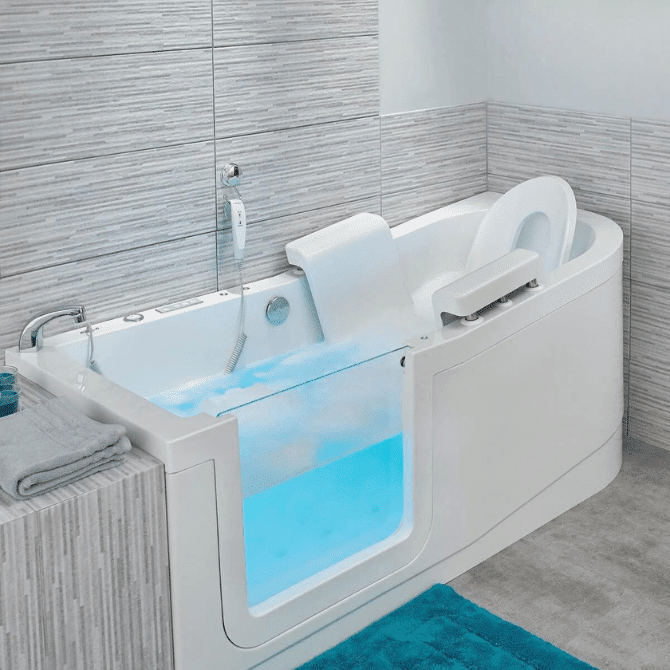 The easy riser has been designed with a standard footprint that is ideal for most bathrooms. The convenience of an ergonomically designed seat makes getting into and out of the bath easy.
Designed, fully fitted, and installed baths for disabled people, older people, and people with limited mobility. Gain independence and enjoy bathing in style with our walk-in baths and showers.
"Experience the true meaning of care and trust with Age Care Bathrooms. The only choice for high-quality, safe, and expertly fitted mobility bathrooms."
Brian Blessed OBE
Download Your Free Disabled Bath Guide To See The Full Range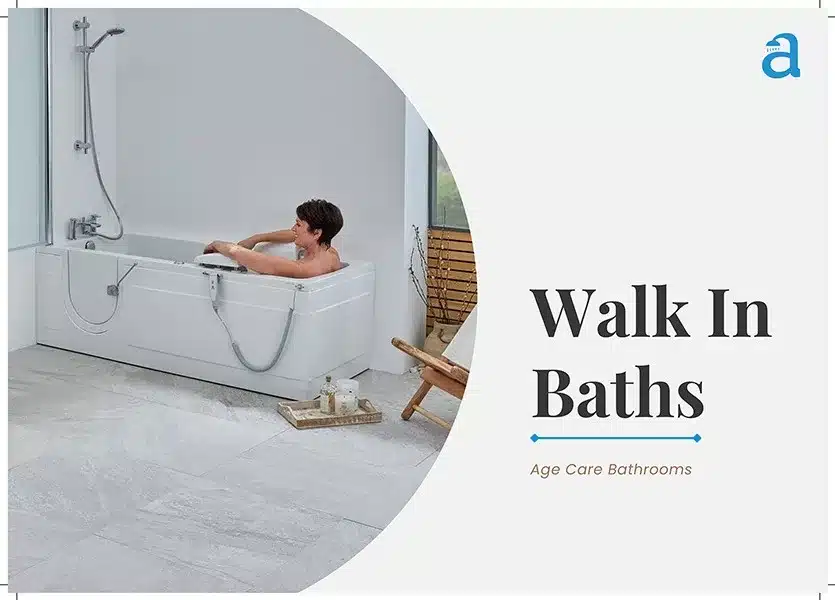 Transform Your Bathroom and Enjoy the Comfort and Convenience of a Stylish Disabled Bath
Contact Age Care Bathrooms for a free, no-obligation chat about your mobility needs and find the right solution for you.
What's Included with an Age Care Disabled Bath?
Alongside every walk in bath installation, our highly skilled and experienced team members will consult closely with you at every stage to design the ideal bath for your individual requirements. We can work with you to discover the best option that fits your needs — such as safety features, mobility assistance, lifestyle, budget, and any other considerations that matter to you.
Once completed, you can be sure that you will have a stunning new walk-in bath that you will be able to use safely for many years.
We are the UK's leading specialists in designing and building bathrooms for older people and those with limited mobility.
With over thirty years of collective expertise in installing disabled baths with doors, we are considered the leading mobility bathroom specialists in the UK. We'll handle everything, even removing all your old bathroom fixtures and waste. Here is our step-by-step process to ensure we create your perfect bathroom.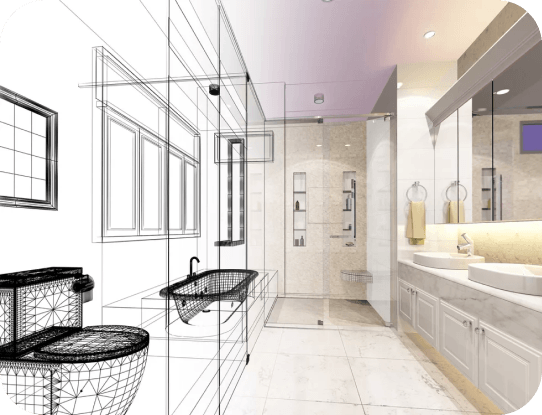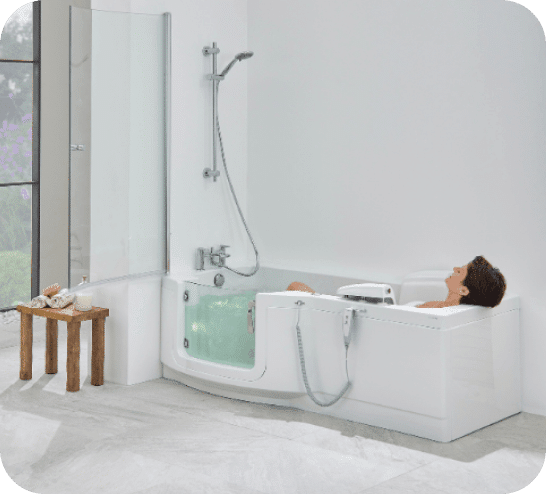 1. No-Obligation Consultation and Professional Design Service
During your no-obligation consultation, a member of our team will discuss your accessibility needs, design preferences and budget.
We are one of the first in our industry to offer an online virtual walk-in bath design service.
We can provide instructions on how to measure your bathroom or come to you.
After listening carefully to your preferences and requirements, we'll use state-of-the art computer-aided design (CAD) software to create a professional render so you can see what your new room will look like; and how the fixtures and fittings will be
laid out in the available space.
2. Personalised Quote and Deposit
We will revise your bespoke walk-in bath design until you are satisfied and provide a no-obligation quote. Every quote is fully inclusive and includes fittings and fixtures, installation and removal. We are completely transparent, so we will never spring you with hidden fees or add-ons.
If you wish to proceed, we'll ask for a deposit and issue a booking confirmation. We always offer a bespoke service, taking into consideration your needs, available space and personal style.
There is no need to be concerned about locating competent and dependable tradespeople. Our installation team members are properly qualified and will complete all electrical, plumbing, joinery, and tiling work.
We can usually arrange installation 4 to 6 weeks after your initial consultation. In most cases, our installations take as little as three days. You may be without your existing shower or bath for a couple of days, but you will always have access to your WC.
After completing your installation, our team will clean up and remove your old fixtures and other waste. Where possible, we'll recycle waste materials to keep them out of landfill's and help protect the environment.
We want you to minimise disruption to you as much as possible so you can begin using your new walk-in bath immediately!
Once you're happy with everything, we'll ask you to pay the balance for your new walk-in bath.
But our services do not end when our installation team say goodbye. You'll benefit from our comprehensive aftercare service, with expert team members on hand to answer your questions and help you get the most out of your new bath.
Age Care Bathroom Customer Reviews
There's a reason we're Google's #1 Walk-In Disabled Bath Installer

Why Choose Our Team to Install Disabled Baths?
Our team takes pride in making life easier for older people or anyone who needs to use a wheelchair or struggles with limited mobility. We have more than 30 years of experience designing and installing walk-baths for the disabled and elderly in the UK and make it quick and easy to update your bathroom.
During a house survey, a team member will review your requirements and show you a choice of disabled bath prices that meet your needs and budget. Everybody is wary of unanticipated fees. Therefore, after our visit, we will provide you with a precise, no-obligation fixed price based on your specifications and preferences. 
Our team of designers and installers takes care of everything from beginning to end and benefits from having access to a wide selection of merchandise from reputable manufacturers.
Every member is fully qualified
It shouldn't be your concern to look for skilled and reliable contractors. All plumbing, joinery, tiling, and electrical tasks will be completed by our specially chosen installation team of professionals.
Installations can be completed quickly by our skilled crew! In under three days, your disabled bath could be fully functional and ready for use. 
 Our installation team removes every item of rubbish with them, and your disabled bath will be set up to begin using when they leave.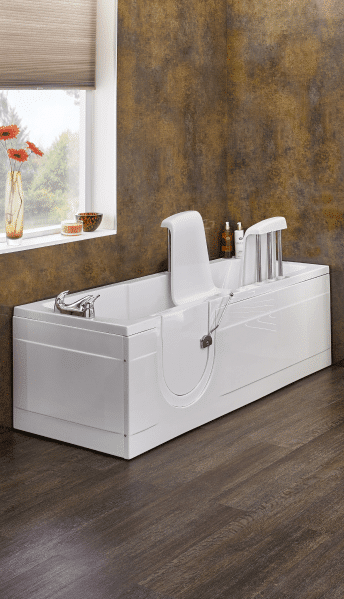 A Fully Fitted, Walk In Bath from Age Care Bathrooms Starts from Just £6,000
Not sure if a walk-in bath is right for you? Contact our mobility bath installation experts for a chat about your requirements and a no-obligation quote.
Stylish and Practical Disabled Baths
Stylish and Practical Disabled Baths
A disabled bath doesn't have to compromise on the appearance of your bathroom. Our wide range of disabled baths means you can find a model that will look great and enhance your home.
We can advise you on the disabled bath that will work with the size of your bathroom, your personal requirements and your price point.
We offer a full service, so we don't need to bring in third parties, and our no-obligation quote covers all installation services, including:
Plumbing
Electrics
Joinery
Flooring
Waste Removal
Want to find out more or schedule your free home survey?
Contact our helpful UK team right now at 0800 999 8994 or via our online contact form. 
If you have more questions, why not chat with our friendly team?
Take the First Step Towards Your Dream Bathroom and Enjoy the Comfort and Convenience of a Stylish Disabled Bath
Gain confidence and independence when bathing with a custom walk-in bath. With Age Care Bathrooms, you don't have to compromise style for function. Our experts are on hand to help you select the right disabled bath for your needs and budget.
Ready to see how a disabled bath will look in your bathroom? Tell us about your needs, upload photos and rough dimensions of your bathroom through our secure portal, and receive your bespoke no-obligation bathroom design and quote.
Visualise Your Perfect Bathroom without Committing with a Custom 3D Bathroom Design